Liverpool midfielder Lucas Leiva could well make his first team return before Christmas after manager Brendan Rodgers revealed that he is set to return to training within three weeks.
The Brazil international has had a nightmare spell of injuries, having missed the vast majority of last season after a cruciate ligament injury, before returning to first team action during the clubs pre-season tour of America.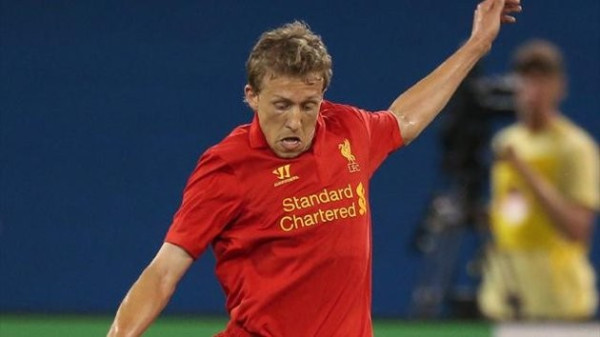 Liverpool fans were pleased to see the popular midfielder back in action, but his return was short-lived as he picked up a thigh injury in the first home Premier League game of the season against Manchester City.
The injury has forced the Brazilian to once again watch from the sidelines as Liverpool have struggled to pick up wins in the Premier League.
However, Lucas has now begun to do some fitness work and Rodgers is hopeful that before the end of the month he will be able to partake in full training with the rest of the squad.
"Lucas has been out on the field in the last week or so which is great," Rodgers told the official Liverpool website.
"He's not doing multi-directional movements yet but he's doing a lot of straight-line running and endurance work.
"I'm anticipating maybe another three weeks but his professionalism is great and he'll get back probably sooner than is anticipated."
Lucas was voted the Liverpool player of the season back in the 2009/10 season and had become an instrumental figure in the central midfield area.
The Reds have certainly missed his commanding performances in the centre of midfield, and will hope that by his return to action that they will advanced up the table.
Liverpool currently lie in 12th place in the league and have already exited the Carling Cup, leaving Rodgers concentrating both on the league and Europe where the club are looking to advance in the Europa League.