Jamie Carragher and Michael Owen have admitted that they will consider a future career in coaching after calling time on their respective playing careers at the end of the season.
Both have enjoyed huge success in their careers and have a wealth of knowledge to pass on to the next generation. However, the former Liverpool teammates admit that it is difficult to walk into a top job and they are uncertain whether they would want to work behind the scenes for a number of years.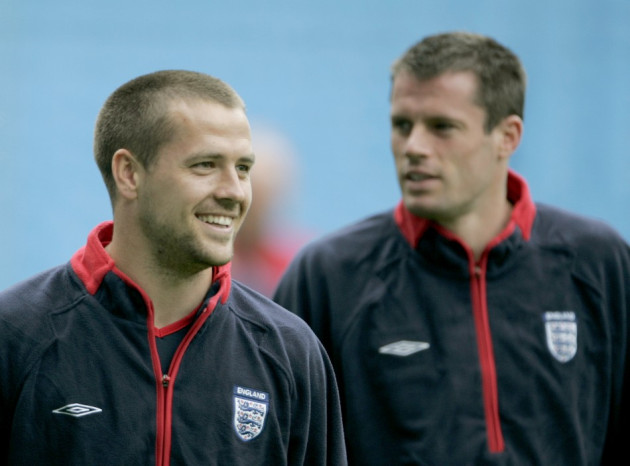 "We all look at Ferguson and Mourinho and think we'd love to be them - on the sidelines, winning games, big trophies - but you have to think where they started," Carragher explained to the Express.
"Mourinho was an assistant for years. Brendan Rodgers hasn't just got the Liverpool job. He has been working for 20 years. Would I be prepared to go and work at an academy? Maybe, but it's not top of my list of things that I want to do."
Owen also feels as though he may not be prepared to work for another ten years as a coach after a more than 16 year playing career which saw him playing for some of the top clubs in world football.
"It takes over your life," said the former Liverpool, Manchester United and Real Madrid striker. "Some days you look at what you've learnt and think, 'I'd love to give it a go'. But then the work you have to put in is a lot. If I'm missing football, I'll see. But the doubt is whether you can do 10 to 15 years of hard work to get there."
Carragher, who won the FA Cup, League Cup and UEFA Cup while playing alongside Owen, agreed that players who have competed at the very top level will shy away from moving into management as they will only want to receive a top job straight away.
"I'm not sure players in our situation will go down that road," added Carragher. "Maybe if you get a good job straight away, but think of the journeys the managers have gone on to get to the top. Very few top players now would be prepared to do that."
While a career within the media seems a likely option for Owen, Liverpool supporters will hope that Carragher remains at the club in some capacity after a career which has seen him earn legendary status on Merseyside.