Steven Gerrard is confident that Luis Suarez will still be at Liverpool next season because he will be desperate to make amends for the rash decision to bite Branislav Ivanovic which resulted in him receiving a 10-match ban.
There has been plenty of speculation about the future of the controversial forward with some camps suggesting Liverpool have become fed up with his reckless behaviour, while others believe Suarez feels victimised and may decide to leave England.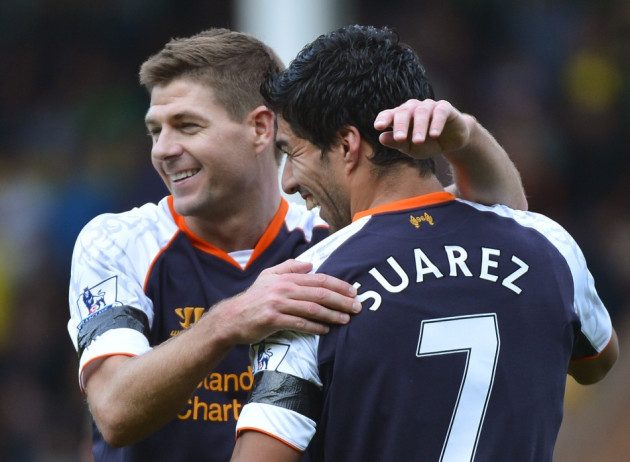 Should Suarez remain at Liverpool then he will be out of action until late September and Gerrard believes he will be keen to make up for lost time when he returns.
"Luis has done the right thing by apologising and taking his medicine," Gerrard told the Evening Standard. "He's really unhappy he can't help the team, and he was really down when the ban came through.
"But once he is back from his ban we will be the ones that benefit. Luis will want to make it up to the club and the team that he has been out for so long. He will be desperate to atone for that.
"I don't think that what's happened to Luis will affect him much in terms of his future. Maybe one day we will have to accept that Luis wants to move on, and that will be his decision.
"But I don't see any signs of it at the moment. Luis has been really happy here at Liverpool and he seems settled here. I don't see him wanting to leave right now."
Liverpool had been over reliant on Suarez during the first half of the season but January additions Daniel Sturridge and Philippe Coutinho have impressed since arriving in January.
Jordan Henderson has also impressed in recent weeks, but Gerrard feels as though Liverpool still need to strengthen during the summer transfer window.
"It would be a disservice to Luis to say that we can cope without him, but it would then be disrespectful to my team-mates to say that we can't," added Gerrard.
"In an ideal world we'd have him available because he makes the team a lot stronger. He's had a phenomenal season. But I have a lot of confidence and belief in the squad of players we have got. We can cope without Luis until the end of the season.
"You don't have to be a rocket scientist to know we still need another striker. You look at top teams in Europe and at United, City and Chelsea, and they all have three or four top strikers.
"That's something we haven't had. We had one until January. Then Sturridge came in and we have two. In my opinion, to compete at the top we need to have three or four strikers."