Jan Molby has argued that Liverpool should have fielded a stronger team in the Capital One Cup competition, with the former Anfield midfielder claiming that Brendan Rodgers may not have considered just how important winning cups still is for the club.
Liverpool were ousted from the competition this week by Swansea, with Rodgers' former club winning convincingly as they moved to the next round.
Certain Liverpool players were particularly disappointing, with Joe Cole receiving criticism from Rodgers in the press over his performance, but Molby has questioned the manager's priorities as he fielded a team missing some of the club's biggest stars.
"Perhaps it is a touch naive to think that a manager should take every chance to field his strongest team and then deal with fatigue and injury later down the line," he wrote in the Liverpool Echo.
"The Premier League is Brendan Rodgers' priority with the Europa League next on his list and so he probably didn't feel his squad was strong enough to make a proper assault on the League Cup this season.
"But I believe that Liverpool are here to win trophies and you only have to look at the excitement created last year when the club made it to Wembley twice.
"It kind of feels like we've given up the trophy. There is no doubt that Liverpool wanted to win on Wednesday but we were never really at it - some players in particular."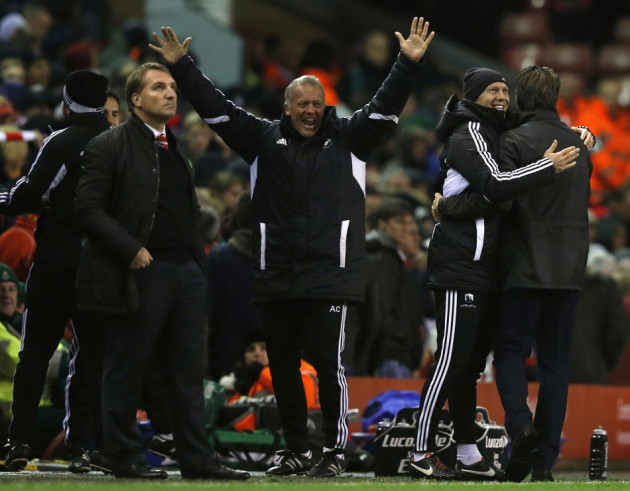 Liverpool have struggled on all fronts this season, with the side currently 12th in the table and seven points behind a top four spot.
Having won just two games in their last nine, Rodgers has often made it clear that, burdened by a limited budget and the mistakes by previous owners and management, it will be a long road back to the glory days for the club.
And after Kenny Dalglish was sacked last season, despite leading Liverpool to victory in the Carling Cup and the final of the FA Cup, it became apparent that the owners are prioritising League glory over domestic competitions.