Brendan Rodgers insists that Joe Allen will prove to be a good buy for Liverpool, arguing that he has exhibited qualities that are reminiscent of Paul Scholes.
Allen is yet to score in 11 appearances for the Reds this season, but his work in the midfield has at times saved the side's blushes as they count just one win in the Premier League so far this season.
BBC pundit Alan Shearer has been somewhat critical on Allen on a number of occasions, but today Rodgers hit back at those who think that the 22 year old won't deliver for Liverpool this season.
"I saw something the other day criticising Joe Allen for not playing risk passes. Unbelievable - so-called pundits who don't know the dynamics of a team and how it functions," he told the Daily Mirror. "Joe's role is to keep the ball. And that, in Britain, is a special talent. It is why Paul Scholes is still playing to his age. It is such a rare talent for a midfielder to rarely give the ball away.
"People have talked about him and his fee, but in time he will be an absolute bargain."
Rodgers paid £15 million for Allen, and after the players who came into the fold at Liverpool under Kenny Dalglish failed to deliver, and the club looked to be strapped for cash in the last transfer window, it seemed to be a lot of money to spend on a player with only one season's experience in the Premier League.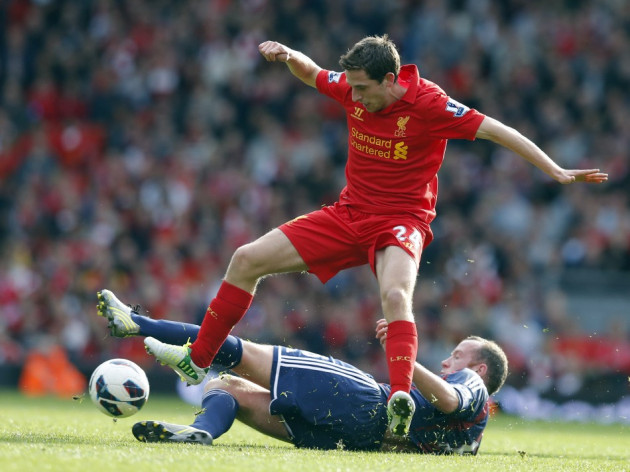 But Rodgers has complete faith in the star he coached at his former club, insisting that while he may not be the next Steven Gerrard, he will be a very important part of the Liverpool project.
"He will have a long career here. He's a wonderful talent and over time people will see what facets he's got in his game," he explained.
"Where we have been really pleased with Joe is with his tactical discipline. Maybe he's never going to score as many as Steven Gerrard, but he's certainly got quality going forward.
"Offensively, he has far more than what a lot of people have seen, just because he's having to play a more sitting role at the moment.
"I have played him in there because he knows how to control the game. He is courageous and will go and get the ball in any area.
"It is his tactical discipline to stay and keep the shape of the team, and offer the passing line, which has been really good though, and because of that we haven't seen everything he can do going forward, but we will."
Rodgers will be hoping that Allen, and the rest of the Liverpool squad, will be able to improve and deliver after the international break as they face a gruelling domestic and European schedule.