Luis Suarez has revealed he does not concentrate on hostile reception from rival fans. The Uruguayan international has been subjected to booing and chants from away fans on Liverpool's travels this season. The former Ajax player claims he only thinks about the reaction of people associated with the Anfield club and their perception of him.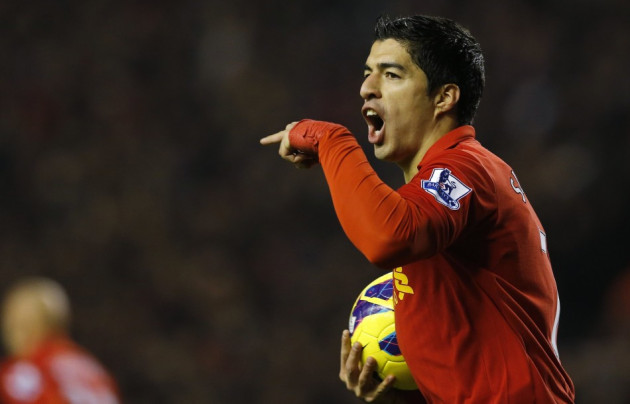 "I still sleep soundly every night. I'm not worried about everything people say. I don't care what people outside Liverpool think. What matters most to me is my family, playing for Liverpool, the Liverpool fans and the team. Anything else that goes on is not my problem. I don't read the papers or watch TV," Suarez was quoted as saying in the Liverpool Echo.
Suarez believes the routine booing and chants made by rival fans actually makes him stronger and the 25 year old feels their behaviour is a reflection of the fact they feel threatened by his goal scoring presence.
"If we're playing away from home, I know I'm going to get booed. But I also know that if they boo me, it's not only because of anything I've supposedly done, but also because they're afraid, because they know I'm a player who is a threat to their team. That's why they try to unsettle me but I never let that happen," the South American explained.
Suarez also claimed Everton manager David Moyes mocked him before the start of the Merseyside derby at Goodison Park. The Premier League fixture finished 2-2, with the Toffees' fighting back from 0-2 down. Suarez scored both goals for Liverpool.
"Everton was a special case, because the Everton manager came out and spoke about me before the match, saying that people like me are going to turn supporters off going to matches. And then, in the match, the Everton captain dived. So that's why sometimes it's better to keep your mouth shut. Moyes can talk about me if he knows me, or at least after the match, but before the match it's not right," Suarez added.