Few will argue that if the Premier League could ever claim to be the greatest in world football, the crescendo to the 2011/12 campaign worked as the trump card in an argument albeit flawed by a FIFA team of the year entirely made up of players from La Liga.
Last season's Premier League had all the components required for a season bathed in intrigue and drama, including an earth shattering climax courtesy of Sergio Aguero's memorable last-ditch title snatcher which tested the dulcet tones of every television and radio commentator across the world.
But if European and world football onlookers were satisfied, if not enriched by the latest claim to the title of the planet's finest domestic division, those inside the walls of English football knew something was missing.
England's most decorated club, Liverpool, amid dismal spells under the guidance of Roy Hodgson and then Kenny Dalglish, have sat on the periphery while their traditional rivals have lapped up the pundits' superlatives. Champions League qualification, let alone hopes of challenging for the league championship, have become pipe dreams.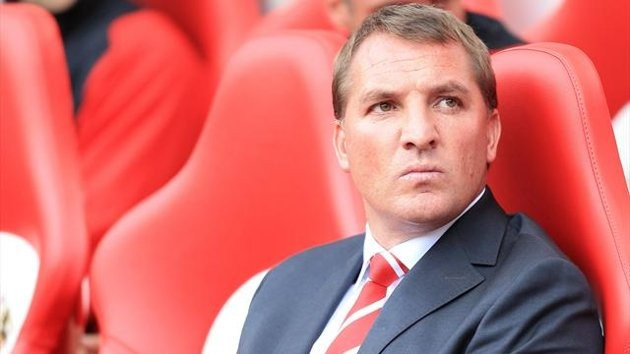 The appointments of Hodgson and Dalglish, for varying reasons, are proof of what poor decisions coupled with a lack of financial clout can do to clubs in the top flight, even of Liverpool's vast size. The duel employment has set The Reds back three years, but here comes the good news - their steady rise has begun.
Brendan Rodgers is already benefitting from time and money being separate entities. As the Northern Irishman learned at Swansea City, a manager handed a project with long term belief and licence to make mistakes will often thrive.
Having hardly budgeted for a reliance on qualifying for the Champions League, Rodgers has been allowed a free pass this season, with onus on steadying the ship and building a team, rather than making inroads into the top six. With 13 league games remaining, he's on the verge of doing both.
During draws with Arsenal and champions Manchester City, against whom Liverpool would have feared the worst during the two previous campaigns, Rodgers' side have shown themselves to among the most effervescent, exciting teams in the division, and, crucially, have provided evidence of sustaining that form beyond.
Jordan Henderson and Stewart Downing both appear revitalised under Rodgers, as their Anfield careers appeared on the brink of ruin; Steven Gerrard is providing a hybrid role in midfield; while in Luis Suarez and Daniel Sturridge the club have two of the liveliest strikers in the Premier League.
Future success is unknown, but the way Rodgers' much-chastised footballing philosophy has begun to yield performances and results in such a short space of time, coupled with his tinkering of a squad which declined dramtically during previous years, is another endorsement of patience in modern football.
In the same way Live Aid is devalued in the absence of Bono, Eurovision directionless without Terry Wogan and a World Cup finals irrelevant while deprived of Brazil, Liverpool's presence among English football's present elite is much desired. Rodgers is slowly ensuring our wish is likely to be granted.