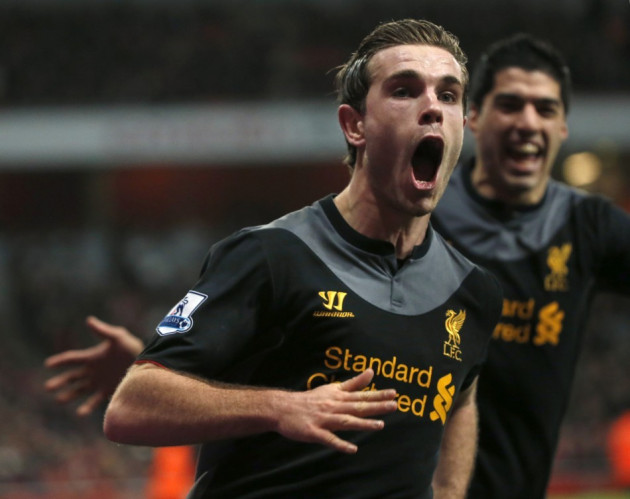 Liverpool manager Brendan Rodgers has revealed that he had no intention to let Jordon Henderson leave the club over the summer.
The 23-year-old was signed by former Reds manager Kenny Dalglish from Sunderland in 2011 and had a poor start to his Anfield career. Rodgers had earlier asked Henderson to leave the club, but the Liverpool boss was forced to retain the England international as the Merseyside club had a paper-thin squad during the previous campaign.
However, Henderson has turned things around since the start of this year, which has made him a key member in the former Swansea manager's plan at Anfield. The midfielder has made seven starts in the Premier League this season and Rodgers has hailed the improvement in his performances in recent times.
"I never wanted Jordan to leave. He was a player I didn't want to lose. We spoke about the opportunity that was there for him but it was never the case that we wanted him to go. He's still a young player who has really grown in his time here at Liverpool," Rodgers told the Liverpool Echo.
"As time goes on he will become better and better. He's a very humble boy and I enjoy working with players who have an appetite every single day to improve their game and to learn, and then they go out on a Saturday and give their all."
In his first season at Anfield, Henderson was played out of position on the right, which had a greater impact on his performance. The former Sunderland player's natural position is in central midfield and Rodgers believes his versatile style of play is a boost to Liverpool.
"It's a compliment that he's played in a number of different positions. He played his first season here wide on the right. At the end of last season he played as a false winger from the left, coming inside and getting goals," Rodgers explained.
"I've played him at right-back and he's got forward well. His qualities and his characteristics can also see him play as a wing-back. His athleticism means he can play inside or get up the line."
"His diligence defensively is also very good as he gets back in, covers and screens. He has done very well in that position, but of course probably his most favourable role would be central," he added.