London 2012: Official German Olympic Uniforms Unveiled [PHOTOS]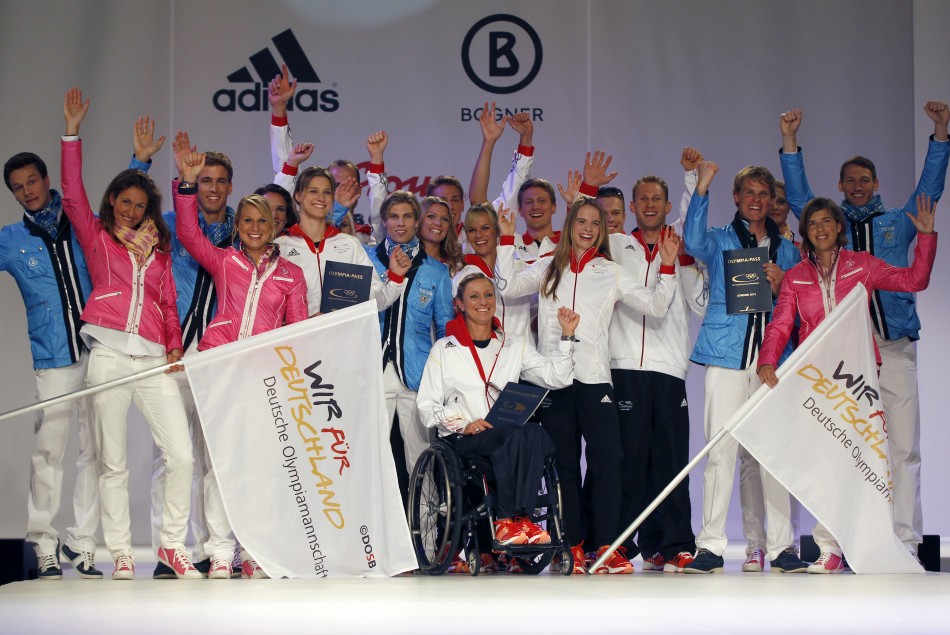 Following the unveiling of the GB Olympic uniforms by British designer Stella McCartney, the German Olympic team presented their official uniforms in Duesseldorf on 24 April, 2012.
German hockey players Christina Schuetze, Janne Mueller Wieland, German fencing champion Britta Heidemann and Paralympics swimmer Kirsten Bruhn were present at the event along with several other dignitaries.
Dressed in a pink jacket with white trousers, Britta Heidemann led the presentation with a flag in her hand. The 30-year old athelete is a known name in the Olympic fencing sector. She had her biggest success on August 2008 during the Beijing Summer Olympics when she defeated Ana Maria Branza to win the gold medal.
She had won the gold medal at the 2007 World Championships in the individual competition and the Silver Medal during the 2004 Summer Olympics.
Similar to the BG Olympic team uniform presentation, the German uniforms were also presented by the sportswear company Adidas.
Apart from the BG and German uniforms, famous designer Ralph Lauren is also working on the uniforms for the US team.
Earlier, the designer released a pair of his sketches for the U.S. Olympic and Paralympic team.
According to the New York Fashion, unlike Stella McCartney's Spandex competition uniforms, which were called "too blue," Ralph Lauren went with nearly all white.
Uniforms for the ladies include shirt-dresses and booties while for the men, it is button-downs and trousers. Both outfits are accessorised with newsboy caps and red, white, and blue belts.
The outfits will have polo collars and striped belts accented with the official Olympic emblem along with the traditional Big Pony logo that can also be found on most of Ralph Lauren's apparel.
The clothing will be worn at the opening and closing ceremonies as well as casually at the Olympic Village.
This is not the first time that the American fashion designer has worked in the field of athletic wear. Earlier, the designer has also worked on creations for the 2008 Summer Olympics in Beijing and the 2010 Winter Olympics in Vancouver.
With less than 100 days to go for the 2012 Olympics, designs for the various participant teams are expected to be unveiled soon.
Get a glimpse of the newly unveiled German Olympic uniforms in the slideshow given: