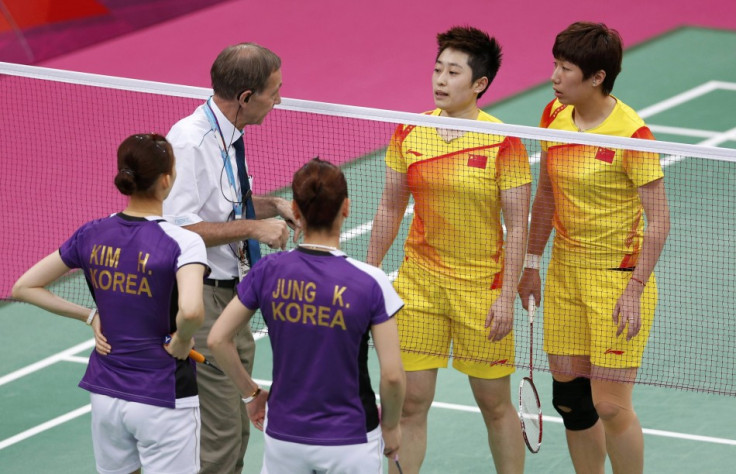 Four teams of women's doubles - one from China, two from South Korea and another from Indonesia - have been charged by the Badminton World Federation (BWF) for "not using one's best efforts to win a match" after a match between Yang Yu and Wang Xiaoli of China and Jung Kyung and Kim Ha Na of South Korea ended with the former (heavy favourites) losing heavily.
Apart from accusations of throwing the game, the result, which many feel was manipulated, means the Yu and Xiaoli will avoid facing a second Chinese team of Tian Qing and Zhao Yunlei in the elimination round... at least until the final, when both teams will be assured of medals.
The Chinese Olympic delegation has claimed it condemned the incident and would launch an inquiry into the allegations.
"The Chinese Olympic Committee... opposes any kind of behaviour to violate the sporting spirit and morality," a spokesperson said, according to Yahoo.
Meanwhile, the BWF said a decision on how to proceed would be announced after the disciplinary hearing pencilled in for Wednesday, 2 August. As of now, all four teams have been listed as quarter finalists and scheduled to play on Wednesday evening (after the hearing).
The players themselves claim there was no such agenda on the cards and were simply conserving energy. The BBC quoted Yu as saying that since they'd already qualified and the knock-out rounds were on Thursday, 3 August, they felt it was unnecessary to "go out hard".
A second match, in Group C, between South Koreans Ha Jung-Eun and Kim Min-Jung and Meiliana Juahari and Polii Greysia of Indonesian is being investigated for similar reasons.
Finally, former English badminton player Nathan Robertson, who won silver medal at Athens 2004 Olympics, said he felt the conduct of the charged players was a disgrace and called for severe action.
"It's obviously embarrassing and needs to be stopped. Throwing of matches has happened many times before. I've been in matches myself where it's happened, but it's particularly embarrassing that it should happen in an Olympics. It's time the BWF took a strong stand. And maybe the IOC [International Olympic Committee] will consider whether this is in breach of the Olympic code of fair play," an Agence France-Presse (AFP) quoted Robertson as saying.