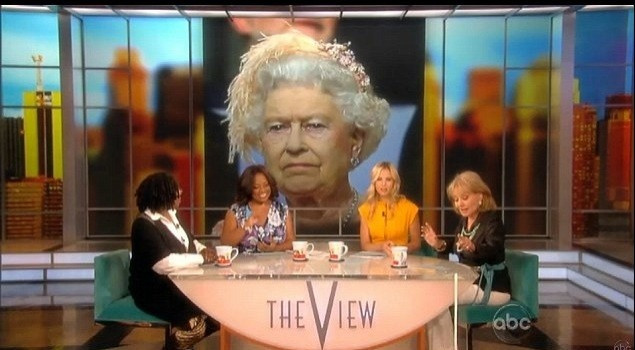 TV veteran Barbara Walters has blasted Queen Elizabeth over her "sour face" and "19th century" outfit during the Olympic opening games.
The ABC host made the on-air comments during a discussion of the London 2012 Games on her programme The View.
She was joined by Whoopi Goldberg, Sherri Shepherd and Elisabeth Hasselbeck for the hot topics segment of the show.
Walters insisted that although she appreciated the Queen's part in the James Bond skit, she was not was not a fan of the Queen's wardrobe nor her stern expression throughout the ceremony.
"Let me tell you my thing with the Queen," Walters said. "The whole thing with Daniel Craig was funny but let me tell you my problem with her - this is a woman who does not know how to smile.
"Would it have killed this woman, this Queen, to go..." she said and smiled. "It's such a sour face."
She went on to slate the royals' fashion sense: "She is 86, but she dresses like something out of the 19th century.
"The pink dress with the pink plume, but then the black gloves and the black bag - what does the Queen keep in that bag anyway? She never changes."
The 82-year-old doyen of American broadcast journalism said that Prince Philip was "on the other hand, cute. But he could have given [the Queen] a little pinch on the tushie."
Goldberg laughed at Walters' sniping jibes but some viewers were not amused.
One said: "Barbara Walters - Leave the Queen alone. She has more class in her little finger than you have in your whole life. Have some respect."
Another wrote: "How insulting. I am embarrassed as an American by your insensitive comments about a lady who has been queen for 50 [sic] years."