Olympics athletes and officials arriving in London spent hours lost in the city trying to find the Olympics Stadium, it has been reported.
The ordeal of at least two coachloads of guests, plus the sheer volume of arrivals expected, has added to fears of transport chaos in the capital.
Hundreds of athletes and officials have started descending on London ahead of the 2012 Olympic Games, as fears are raised that the city's transport system will struggle to cope with the increased demand.
Concerns heightened as athletes and Olympics officials started arriving at Heathrow airport, creating a record number of passengers passing through the terminal buildings.
Almost 230,000 people travelled through the airport - nearly double the usual number at this time of year.
The government has had to hire extra workers to man immigration desks to ensure that the lengthy delays that have blighted immigration procedures do not recur.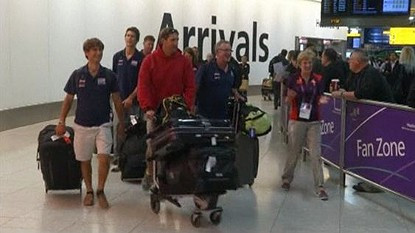 Athletes lost in London
The first of London's "games lanes" - roads restricted for use by Olympics officials and athletes only - was put into operation between junctions 3 and 2 of the M4 between Heathrow and central London, just days after the motorway was reopened following major repairs. An accident on the route backed up traffic heading towards the games lane, although a Highways Agency spokesman denied claims that there had been 32-mile queues.
The system has already cause confusion for some of the athletes arriving. In a worrying echo of an episode of the BBC Olympics comedy mockumentary 2012, two-time 400m US hurdles champion and Olympics gold medallist Kerron Clement said that his coach got lost trying to get to the Olympic Park.
He vented his frustration on Twitter, saying: "We've been lost on the road for 4hrs. Not a good first impression London."
He tweeted a follow-up: "Athletes are sleepy, hungry and need to pee. Could we get to the Olympic Village please."

A bus carrying 30 Australian officials and medics also got lost for hours because the driver forgot the route and did not know how to work the GPS system, it was reported.
On 25 July the entire 30-mile Olympic Route Network comes into effect. Drivers face fines of £130 if they are caught using games lanes during restricted hours.
Athletes stay away from London
Not all athletes are staying in the capital. The Chinese announced that their squad would be based in Leeds. The US sailing team are based in Weymouth, Dorset and Anna Turncliffe, who arrived with the rest of team USA, told Reuters of their plans.
"We have been prepared - we have sailed here a lot. We know what to expect in Weymouth.
"It's good to have another couple of weeks just to get back into it and make any last-minute adjustments we need."