The lighting of the Olympic flame has got under way in Greece to begin the torch relay that will end at the start of the London 2012 Games.
The ceremony took place in front of the old ruins of the Temple of Hera in Olympia, birthplace of the ancient games.
The torch was lit using a parabolic mirror to focus the sun's rays to guarantee the purity of the flame - in line with tradition.
Liverpool-born world champion swimmer and Olympic silver medallist Spyridon "Spyros" Gianniotis was the first person to carry the torch. He passed it on to 19-year-old Alexander Loukos, a Briton from Newham - the host borough - who is of Greek origin.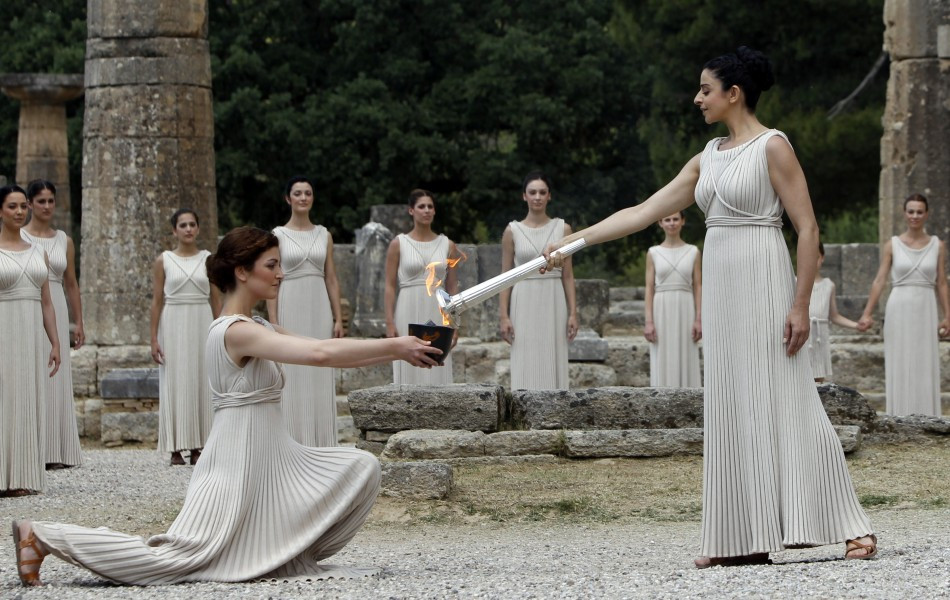 London Organising Committee (Locog) chairman Sebastian Coe gave a speech before the ceremony took place in which he said the flame would inspire a generation.
"We promise to protect the flame, to cherish its traditions and to stage an uplifting torch relay of which we can all be proud and which can inspire a generation," said Coe.
"As torchbearers lift the Olympic flame in the days and months ahead, it is our hope that they will also lift the spirits and hopes of people across Britain and across the world."
The torch will set off on a seven-day journey around Greece, travelling 1,800 miles across the country as it passes between 490 torchbearers.
After a handover ceremony at the Panathenaic Stadium in Athens, it will leave for Britain on 18 May.
In the two previous summer games, the flame went around the globe but the relay has been restricted this year.
Three-times gold medallist sailor Ben Ainslie will be the first to carry the torch when it arrives in Britain.
The torch will then begin a 70-day journey all over the UK and Ireland and will be carried by 8,000 members of the public - including a soldier wounded in Afghanistan and a 100-year-old woman - and celebrities. Its journey ends with the lighting of the Olympic cauldron in London to mark the start of the games on 27 July.
More than 95 percent of the population of the UK live within an hour of the relay route.