The Marriott London Sevens, the final leg of the 2011/12 World Series, comes at an apt time for the dreams of many of the players participating at Twickenham this weekend.
With New Zealand expected to cruise to their 10th title of the competition's 13-year history, the weekend's event, shocks aside, will act as merely a sideshow to the sport's emerging profile.
The Rugby Football Union are expecting another 100,000 spectators over the weekend, topping the attendance of 12-months ago, proving that it's not just the 15-a-side game that can attract the punters.
While the women will be aiming for a third successive appearance in the Sevens Challenge Cup final, for England's men, the two-day festival of rugby marks the second year that players have been contracted to exclusively play sevens rugby. Gone are the days of switching codes, the players are here to stay.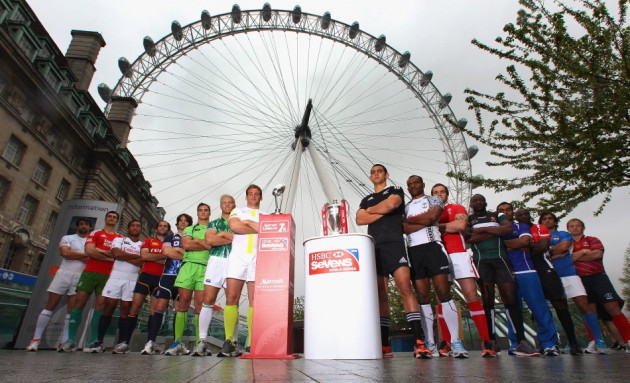 RFU Operations Director Rob Andrew told IBTimes UK: "One of the challenges we've all been faced with is how we put a group of sevens players on the field.
"Do we have a 15-a-side player who plays sevens or do we have a player who is just a seven-a-side player and what is happening now is the top sevens players are becoming career sevens players, that's what they do partly because they haven't actually got the time to play 15-a-side rugby because they're never here.
"So all the top nations now, New Zealand, Fiji, South Africa, Australia and Samoa are all basically putting out squads who are just professional sevens players. We're making strides on that side and trying to build a better quality squad all the time."
The man with the pressure and responsibility of transferring that stability into results is head coach Ben Ryan, who is from the same thought-provoking school as World Cup winning coach Sir Clive Woodward; literally.
Formerly of Loughborough University, the training ground for England coaches, Ryan has spent five years at the helm, longer than any coach gone before.
Prior to contracts, and World Series success, Ryan would resemble Oliver Twist, constantly asking for more resources from the RFU honey pot.
The 41-year-old would often find himself scratching around for players for tours and World Series weekends, as he dealt with the logistical nightmare of choosing a squad of players who were pre-occupied with 15-a-side rugby, while battling the sports' inferior status.
"In days gone by, players were swapping between 15-a-side and seven-a-side," Andrew said.
"It's virtually impossible to share a player between a Premiership team and the England sevens squad. We've sort of tried that for the last few years.
"If you go back two or three years Ben was tearing his hair out to get squads together and sometimes getting players to meet at the airport to fly somewhere around the world to play for the England sevens team."
Under such restrictions, it's remarkable Ryan has enjoyed any success against teams whose resources and commitment to sevens rugby leaves them light-years ahead.
In the World Series, which this year is likely to end with a second successive third place finish, England have never missed out on the top five in the final reckoning while Ryan has clocked up more wins against pacesetters New Zealand than any of his predecessors.
"I'm enthusiastic because I've got a group of players who are very much on an upward curve," Ryan told IBTimes UK. "I know the RFU are putting a lot of energy and resources behind it, and whereas before I was scrapping around for pennies three or four years ago, I know now that we're going in the right direction so quickly.
"For us a lot of our players are contracted up until Rugby World Cup and also the Commonwealth Games in Glasgow, so as a union for England, that's where our sights are set; on World Series wins, World Cup wins and Commonwealth Games wins and we've never had that. We're in our second year full-time; this year has been hugely exciting."
To those aims, Ryan can now add the Olympic Games. In October 2009 the International Olympic Committee granted both golf and rugby sevens Olympic status for the 2016 Games in Rio, an inclusion which has transformed the game.
"Ever since that decision was taken all around the world everyone who plays rugby has had a real focus on sevens as well as 15-a-side," Andrew said.
"For the players you have the ultimate goal of trying to play in an Olympic Games so its just given the sport a huge boost both commercially and from a playing point of view.
"I think the development of rugby around the world and the sevens as part of that is going to continue to grow and in some respects for some countries who don't have a massive experience of rugby sevens it is actually easier. I think it is going to grow and it's definitely here to stay."
Therefore with the final World Series round taking place in this year's Olympic city; London, the setting and atmosphere of the host city could work as perfect motivation for those sets of players already eyeing a place in Rio.
The timing of the Olympics will work as the peak in the sports' current trajectory. Those with a British inclination may argue what better time than the present for sevens to be reintroduced 88 years after the last competition in Paris in 1924, but the truth is that the worldwide development of the sport wouldn't suit being thrust into the limelight now.
Ryan admits: "It would have been awesome to have a team in the London Olympics.
"There are 70-odd days to go, if we knew we were walking around the Olympic Stadium, but it would have come too quick for the game I think. We need a few years to get everything right so when we go to Rio we're a well polish machine.
"There's no doubt about it the Olympics will not only take pride of place in the sevens in the normal season, but probably for those three or four weeks before and after it will take pride of place in the rugby calendar full-stop."
Publicity ahead of this weekend's London Sevens is likely to be the tip of the iceberg for Ryan's emerging superstars. Just like sitting at the top table in sevens rugby, they'd better get used to it.
Join the 70s Disco at the Marriott London Sevens! Tickets are now available for the ninth and final leg of the HSBC Sevens World Series this weekend on 12th & 13th May 2012, with weekend passes starting from £30, single day tickets from £18 and kids tickets at £5 each day. Tickets will be available in advance until midday on Friday 11th May, and then in person from the RFU Ticket Office across the weekend.
Visit www.rfu.com/londonsevens for further details. (Tickets are subject to availability and booking fees apply).