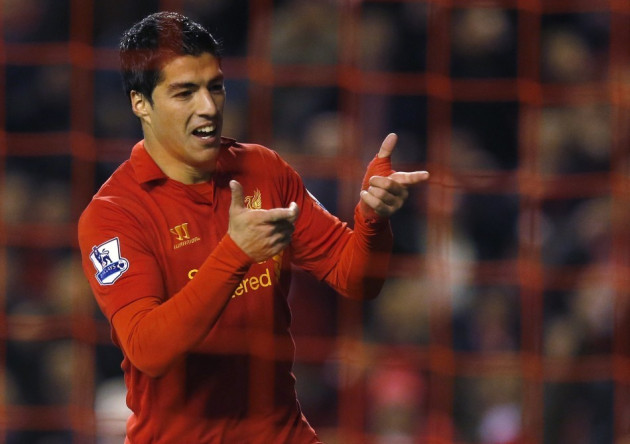 Brendan Rodgers remains confident over Luis Suarez's future at Liverpool as the Reds manager believes the striker will continue with the Merseyside club beyond this season.
The Uruguayan international had publicly expressed his desire to leave Anfield in the summer. However, Suarez's decision was overturned by Liverpool chiefs as he was forced to continue with his current employers.
Suarez had earlier been urged to give his best for the Reds, a glimpse of which was shown during the league fixture against West Bromwich Albion where the former Ajax man scored a hat-trick.
Despite his recent comments, the South American has been strongly linked with a move to join Real Madrid either in January or next summer.
"No, I wouldn't say that [it's not Suarez's last season with Liverpool] - when a player is happy and working well you get a performance like you did today," Rodgers told the Mirror.
"He - like ourselves - wants to be at the very highest level he can be, and you can see by his performances that he deserves to be looking at that level. It show the level of him. But it also shows he has been excellent in his attitude, you see his work rate that is the key."
The 26-year-old returned during Liverpool's Premier League tie against Sunderland after serving a 10-match ban for biting Chelsea defender Branislav Ivanovic. Since then Suarez has scored six goals from four league starts.
The Uruguayan's partnership with Daniel Sturridge has seen the Reds in the mix for the top four. Liverpool, third with 20 points, are level on points with Chelsea and trail league leaders Arsenal by two points.
The former Swansea manager believes the club's recent growth will be the ideal place for Suarez. Rodgers believes there is no better place than Liverpool for the striker.
"For me, this is the place for Luis. I still maintain that even if we were in mid-table this would be the place for him to be because this is a massive club - a global institution," the Liverpool manager said.
"But as a football club and as a team we are growing - and he can grow with us. Luis has the support of everyone at the club and the love of everyone and because this is a worldwide institution, there is no better place for him to grow."