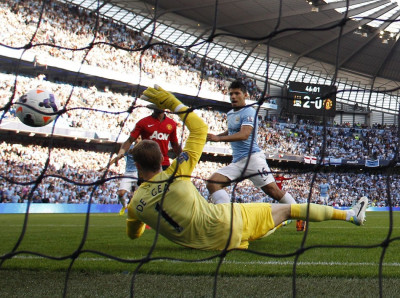 David Moyes' first derby as Manchester United manager saw the Premier League champions suffer a humiliating 4-1 defeat to Manchester City at the Etihad stadium.
Two goals on either side of the match made sure the Citizens handed Manuel Pellegrini his first victory as City's manager in the Manchester derby. Sergio Aguero opened the scoring before Yaya Toure doubled the lead with a tap before half time.
United's hope of making a comeback into the game were dashed after Agureo's second goal, which was followed by Samir Nasri's strike in the first five minutes of the second half. The victory against Moyes' side has seen City climb to third spot in the league table, while the English champions sit eight with seven points after five games.
The Red Devils were without their star striker Robin van Persie after the Dutchman was ruled out due to a groin strain. Wayne Rooney's freekick in the closing minutes of the game was the only consolation for United in the derby defeat.
United and City have changed their managers after the end of last season. The Red Devils saw their legendary boss Sir Alex Ferguson stepped down from his post, who has been replaced by Moyes at Old Trafford.
City, on the other hand had shown the exit door for their former manager Roberto Mancini after the 1-0 defeat to Wigan Athletic in the FA Cup final at Wembley. The Italian was replaced by Pellegrini at the Etihad and has won three out of five league games so far.
Click Start to check out the slideshow for more interesting pictures that captured the highlights during the Manchester derby.