Crystal Palace youngster Jonny Williams believes the club will be able to cope with the loss of Wilfried Zaha in their return to the Premier League next season.
Zaha was the last player ever to be signed by Sir Alex Ferguson when Manchester United confirmed a deal for the 20-year-old in the January transfer window, before immediately loaning the highly-rated youngster back to Selhurst Park for the remainder of the season.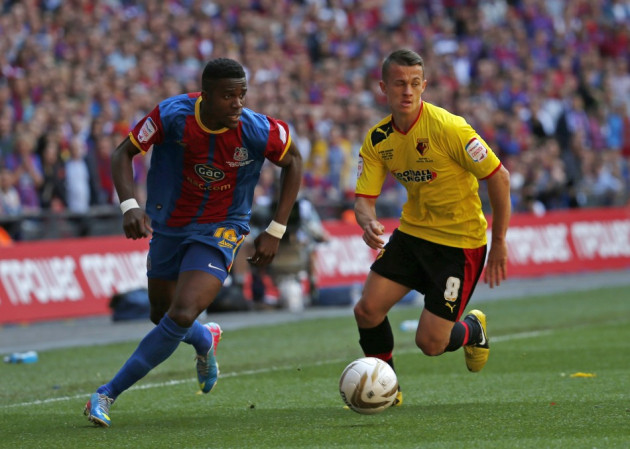 After Palace clinched a spot in the Championship playoffs, Zaha brought an end to his time with the south east London club in remarkable fashion, with instrumental performances against Brighton and Hove Albion in the semi-finals and against Watford in last Monday's final at Wembley.
While Williams admits the loss of their talismanic forward may initially be difficult to adjust to, the 19-year-old is confident in his side's ability to pull together as they prepare to embark on another Premier League campaign for the first time eight years.
"He will be a big miss," Williams told the London Evening Standard. "He is an impact player and has shown that throughout the playoffs and that is why he is worth what he is.
"He was top drawer on Monday and it was a great way for him to sign off from the club. We can't think Wilf enough."
"It will be weird playing against him but we will get a good squad together and we're going into the Premier League to win."
Palace manager Ian Holloway revealed after the club's Wembley triumph that the club would be open to bringing Zaha back to Selhurst back on another loan deal next season.
But Palace chairman Steve Parish admitted the club are unlikely to lodge a bid, and will instead focus on building a squad capable of operating in the Premier League without the United bound starlet.
"Wilfried deserves his chance to go to Manchester United with a view to making it there," Parish said. "I think he is good enough and will figure in their first team.
"We will be planning for life without him. If he does get loaned out to another Premier League club then obviously we would want to be in the mix."