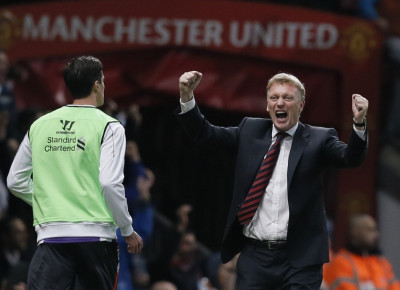 Manchester United progressed to the fourth round of the Capital One Cup after the Premier League champions clinched a 1-0 victory over Liverpool at Old Trafford.
David Moyes saw his men bounce back after their 4-1 humiliating defeat at the hands of Manchester City in the Premier League over the weekend. The former Everton manager was disappointed with United's performance during the derby loss and made eight changes to the starting lineup for the match against Liverpool.
Moyes gave Javier Hernandez his first start of the season. His second half goal from Wayne Rooney's corner saw United knock Liverpool out of the Capital One Cup. Apart from the Mexican, Jonny Evans featured for the first time this season after returning from injury.
Rafael da Silva also returned to the squad after limping off during United's Carling Cup victory over Wigan Athletic. Shinji Kagawa started his second game of the season after featuring during the Premier League champions' 4-2 win over Bayer Leverkusen in the Champions League.
Meanwhile, Liverpool saw Luis Suarez return to the squad after serving his 10 match ban for biting Chelsea defender Branislav Ivanovic last season. The Uruguayan international started the game along with Daniel Sturridge to lead Liverpool's attacking front.
However, Suarez's return was dashed by the Mexican striker's goal, which at the end was sufficient to take United to the last 16 of this season's Capital One Cup. The English champions face Norwich City in the fourth round of the Capital One Cup at Old Trafford.
Click Start to check out the slideshow for interesting pictures that captured the highlights during the United's 1-0 win over Liverpool.