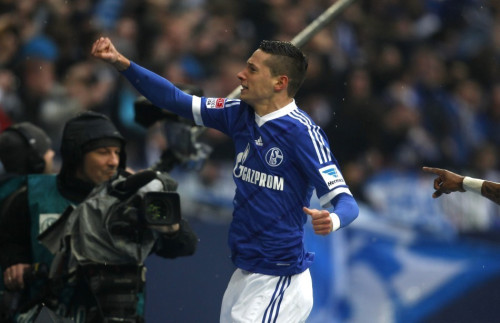 Manchester United are keeping tabs on Julian Draxler and are willing to join Arsenal in the race for the £37m-Rated Schalke midfielder, according to the Mirror.
Arsenal are reportedly favourites for his signature and are willing to wait till the summer to sign the German prodigy, who is being hearalded as one of the best talents to come out of Germany in recent times.
The Red Devils are looking to completely revamp their squad in the summer and Draxler's acquisition will be a step in the right direction.
However, David Moyes will face some tough competition from Arsene Wenger who is very keen on the 20-year-old and with his new found financial stability, is willing to pay his release clause when it is activated this summer. Wenger is willing to convert the attacking midfielder into a central striker in the same ilk as the likes of Thierry Henry and Robin van Persie, who have both been a revelation under Wenger.
With United currently struggling in the league, the deal is likely to hinge on their ability to qualify for the Champions League, with the Red Devils currently in seventh position, 14 points adrift of league leaders Arsenal.
However, a win over Chelsea will cut the gap between themselves and fourth placed Liverpool to only three points and give them a viable chance to claim the fourth and final spot.
In an interview last year, the midfielder revealed that he will be willing to move to either of United or Arsenal as they are among the best clubs in the world.
"You don't have to be playing for the very top clubs in Europe to draw attention to yourself, but if you want to achieve the great goals that the world-class players have, then one of them is playing at the biggest clubs in the world, Draxler said.
"The big two in Spain - Real and Barcelona - Bayern and a few others from England, namely Arsenal, Manchester United and Chelsea," he concluded.