Peter Schmeichel: I Never Feared Any Opposition At United
Peter Schmeichel says he learned to fear no one at Manchester United
Manchester United legend Peter Schmeichel has revealed how he handled the pressure of playing for such a successful team for so many years, with the keeper insisting that he had to maintain a level of confidence that he was as good as his opposition at all times.
Schmeichel played for the Red Devils for nine years, amassing close to 300 appearances for the side and having a big hand in helping them towards the treble in 1999.
And the United legend, who is thought to be one of the club's greatest keepers of all time, said that he had to establish a belief that he could beat anyone for both club and country to be the best.
"Playing for so many years as I have, and in one of the biggest football clubs in the world you come up against the best teams," he explained.
"You come up against the best players and it's important that you understand that you are one of them, you are as good as them and you have to have the confidence that you are as good as them."
As a result of this mentality, Schmeichel revealed he was never scared of any of United or Denmark's opposition, particularly after receiving inspiration from Sir Alex Ferguson's pre match talks.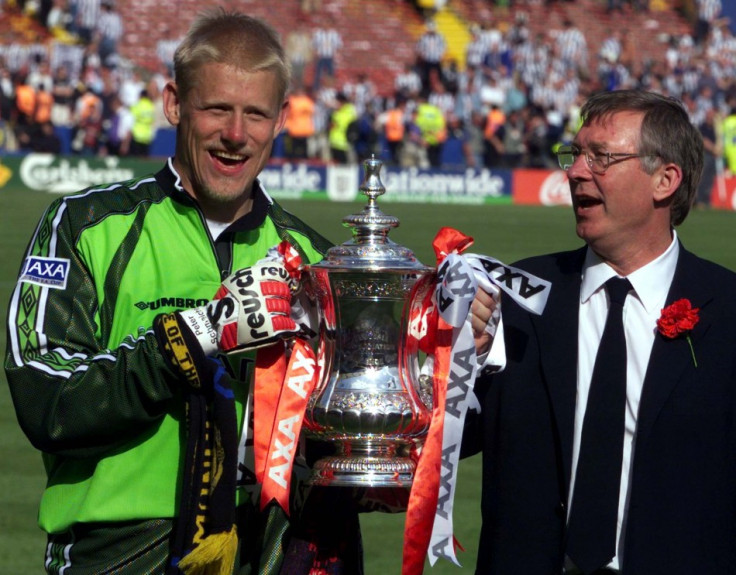 He recalled: "I have never really feared any players.
"I have always taken great pride in taking part and playing against some of the biggest and strongest and most famous players in the world.
"But I made a decision very early on that I was never going to fear anyone, because I believe that if I fear someone that they would have already won against me. So I never feared anyone but I respected so many players.
"The most inspiring team talk I've ever had was one of many of Sir Alex Ferguson's. Sometimes he would come in and he would say right this is the team go and play well...."
David de Gea will do well to take some of Schmeichel's advice as United prepare for their toughest game of the season with Manchester City.
The 48 year old former stopper played for City himself before retiring in 2003, and says that his best moments were saving penalties, with the odds stacked against him.
"It's great to save any kind of shot, but a penalty, because the odds are stacked so much against you, it's a much better feeling to save one of those," he said.
"And when you play for your country and you are in a penalty shoot-out it's all about getting through to the next game. If you are the hero, there is no better feeling."
Peter Schmeichel is a global ambassador for Carlsberg, official sponsor of UEFA EURO 2012<sup>TM, visit www.facebook.com/Carlsberg to find out more.
© Copyright IBTimes 2023. All rights reserved.