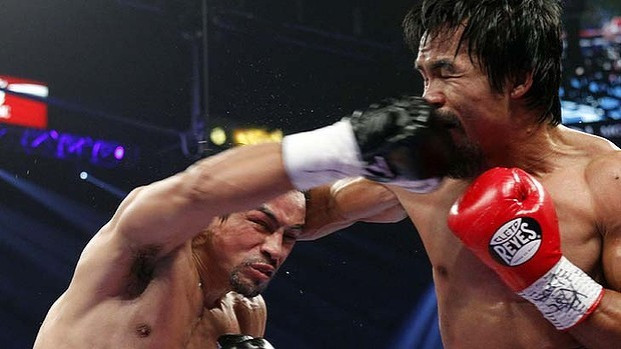 One of the toughest tasks in boxing is knowing when to walk away from the sport. Many fighters down the years have extended their careers and suffered as a result. No one wants that to happen to Manny Pacquiao and he is being urged to walk away with his health in perfect tact. But can he simply leave the sport that has been his life for so long?
Ever since Pacquiao decided to enter into the world of politics he has been unable to properly dedicate himself to the sport. Freddie Roach questioned his training ahead of the surprise loss to Timothy Bradley but that was a decision which could have gone in his favour.
Against Juan Manuel Marquez there was the most brutal of endings and questions were once again raised about whether it was time to retire. The manner of the defeat, with Pacquiao unconscious on the floor for almost two minutes, also showed the dangers these man face every time they enter the ring.
Roach admitted that he should have listened to his trainer Eddie Futch and retired at an earlier age, but it is not easy for a prize fighter to walk away. Especially for Pacquiao; the sport of boxing has enabled him to provide not only for his family, but for his country as he generously donates millions of dollars to various charities.
Should he listen to the people closest to him then we may have seen him lace up a pair of gloves for the last time. "I have long asked you son, it is time to retire because you started boxing at such a young age. I always pray that he will stop. I asked God to tell my son to stop," said Pacquiao's mother Dionisia.
"When you see your husband get hurt, you cannot even sleep," said his wife Jinkee, before being asked whether she wanted him to retire. "You know the answer to that. He knows what I am asking him."
Pacquiao himself hinted that he would like to continue as he believes he was simply caught with the perfect punch. Much like his former gym mate Amir Khan who when on the attack against Danny Garcia was open for the perfect punch, Manny found himself on the end of a perfect counter.
"I don't want to hurt my family and the people who support them," said Pacquiao. "I am OK. I just got overconfident in this fight. That is part of the game -- sometimes you win, sometimes you lose."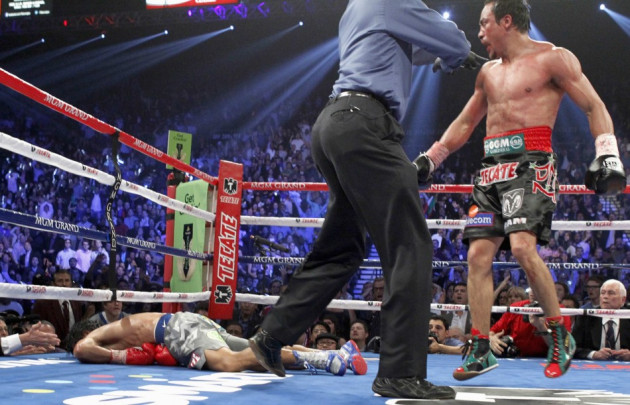 'Pacman' certainly has nothing to left to prove. He is an eight-weight world champion who is certain to be guaranteed a place in the boxing hall of fame. He earned a staggering £16.25million against Marquez and is one of the highest paid sportsmen in the world.
The problem is that he is a warrior and while he believes he can still compete, there will always be that niggling doubt about whether he could have beaten Floyd Mayweather. Should the undefeated American still want the fight, then it may simply be impossible to refuse.
Mayweather has called for Pacquiao to continue, but did warn that he has to be fully committed to boxing.
"I wish Pacquiao nothing but the best, I wish that he can bounce back and he can recoup from this. In the sport of boxing, you have to dedicate yourself to your craft," Mayweather told fighthype.com.
"Hopefully he's okay. My prayers go out to the Pacquiao family. I know he loves the sport of boxing, so hopefully he can bounce back."
It is still a fight that everyone boxing fan would want to see. However, the decision can only be made by Pacquiao. As his good friend Ricky Hatton found out last month, there is no shame in going out on a defeat.