Juan Manuel Marquez knocked Manny Pacquiao out in the sixth round, to score his first win over the Filipino and improve his career record to 54-6-1 with 40 KOs. The Mexican warned the world on Friday, before the weigh-in, that the weekend's bout would settle, once and for all, who was the better fighter. And in his quest to prove his point, Marquez left nothing to the judges' decision in this non-title welterweight fight.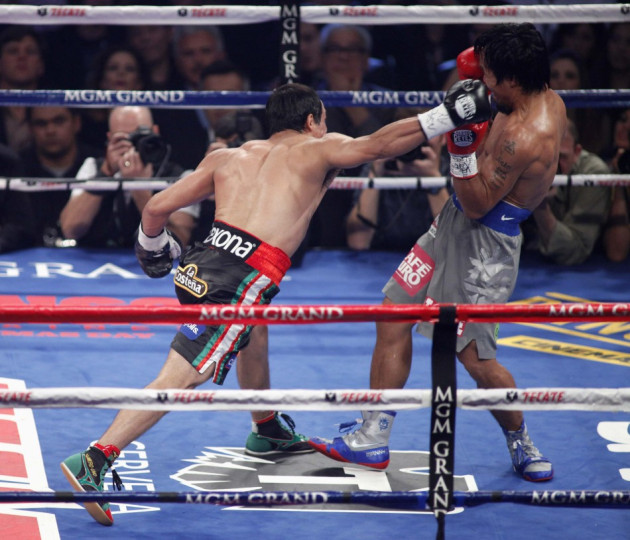 The 39 year old drew an absolutely solid right out of seemingly nowhere to floor Pacquiao, who later admitted he didn't see the punch coming at all. Instead, he moved forward, into the Mexican counterpuncher's territory and wound up on motionless on the ropes.
"I threw a perfect punch," the interim light-welterweight champion explained in an Los Angeles Times report, adding. "I knew Manny could knock me out at any time. I felt he was coming to knock me out the last three rounds and I knew he was going to be wide open."
"That's boxing," Pacquiao said, adding, "I started to get confident but I never expected that punch."
That note of carelessness was also noted by Freddie Roach, Pacquiao's trainer, who also hinted that had his man not dropped guard for that critical moment, the result may well have been different. Roach said Pacquiao was "in charge" and "hurting Marquez". Pacquiao also went down earlier in the fight, in the third round, but that was swiftly avenged with Marquez dropping in the fifth.
Incidentally, Marquez was actually behind his opponent on the judges' scoring cards. But he ensured 2012 would not be a repeat of the controversial November fight between these two, when the judges scored Pacquiao the winner, much to the dismay of public opinion. The two earlier fights ended in another narrow win for the man from the Philippines and a draw.
Pacquiao, according to the Los Angeles Times, has been guaranteed $23m (approximately £14.4m) for an appearance. Marquez will take home a minimum of $6m (approximately £3.7m).