The World Boxing Organization has order a rematch between Manny Pacquiao and Timothy Bradley after a five-man panel scored unanimously in favour of the Filipino fighter following his controversial defeat on 9 June.
Bradley claimed the WBO welterweight title after a split decision by the Nevada State Athletic Commission judging officials in Las Vegas, to inflict upon Pacquiao the fourth defeat of his career.
The decision, which saw Bradley awarded the match 115-113, 113-115, 115-113, has caused uproar in the boxing community, leading to the WBO pledging to review the fight, a rescore which has seen Pacquiao favoured unanimously by the five-man judging panel.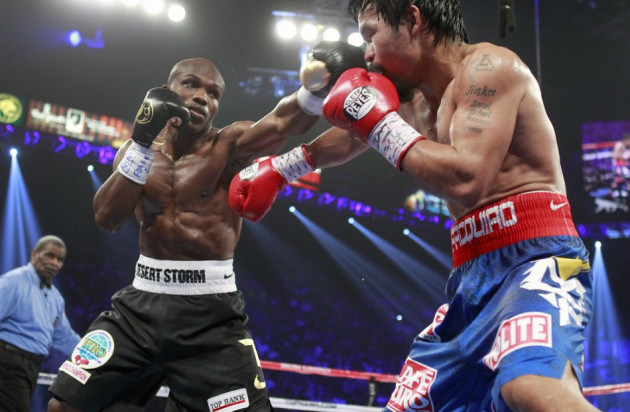 Despite not possessing the power to overturn the decision, coupled with Pacquiao's desire not to see the title stripped from Bradley, WBO president Francisco Valcarcel says a rematch will be ordered regardless of whether promoter Bob Acrum sanctions one later this year.
"We can't change the result but we did this review for two reasons," Valcarcel told ESPN.com.
"If they want to make a rematch, we will approve the rematch and if they don't, we will order one. Also, we wanted to show (the Nevada State Athletic Commission) that they could bring in other officials from outside of Nevada who can also do a fine job judging fights. It's good to have different officials."
"We want to work together with Nevada and we think they should be open to other good officials from around the world," Valcarcel added.
"But we are not questioning the honour of the judges who scored the fight for Bradley. They are honest people. They are good officials, too, but I don't know what happened."
Top Rank promoter Acrum represents both fighters, but is against a rematch until a thorough investigation is carried out into a fight that former world heavyweight champions Lennox Lewis and Evander Holyfield have labelled the worst verdict they have ever seen.
"Paco acted very responsibly," Arum said. "I think what they did was fine."
Prior to the WBO ruling, Acrum said: "I want to investigate whether there was any undue influence, whether the [Nevada Athletic Commission] gave any particular instruction and how they came to this conclusion."