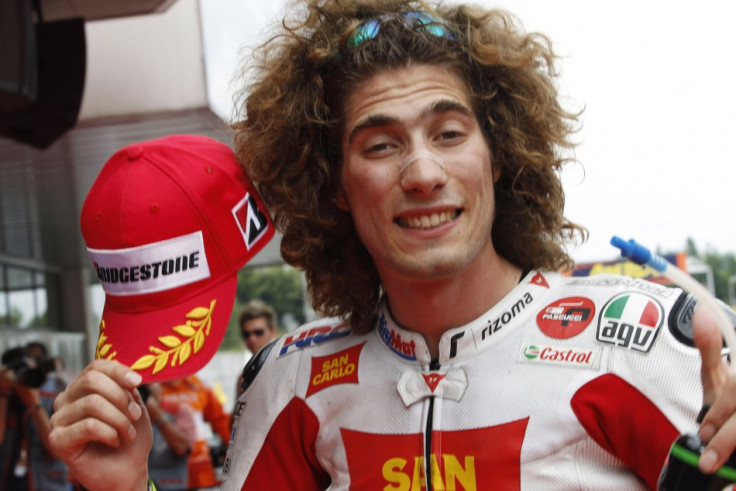 Unsettling new footage of fatally injured Italian rider Marco Simoncelli has emerged showing the 24-year-old being dropped by medical staff as he was carried from the track on a stretcher at the Malaysian MotoGP Sunday.
Simoncelli died from multiple injuries sustained in a second lap incident during the race at Malaysia's Sepang circuit.
The Grecini Honda rider lost control of his bike on the exit of Turn 11 and was hit first by Colin Edwards and then by Rossi, knocking his helmet off and causing "serious trauma" to his head, neck and chest.
The new footage shows medical staff attending to Simoncelli, placing him on a stretcher before transporting him to a waiting ambulance.
However, as they begin the short walk to the vehicle, one of the workers trips on part of the grassy field and drops the stretcher, upending the young rider before the medical staff pick him up again and hurry to the ambulance.
Simoncelli was pronounced dead soon afterwards and his father Paolo has said he bears no ill will towards the bearers, saying there was nothing more that could have been done.
"I was thereabouts, but Marco was dead already. I was 10 metres away, but Marco was already dead, it changed nothing.
"I helped them: when they got back up and passed the stretcher over to my side of the guard rail I took the stretcher to place it in the ambulance and held Marco's hand and called him 'Ciao Marco', but he was gone already.
"There was nothing that could be done. Nothing would have changed in that case. As for the rest, maybe more (attention) is needed, but these people try to do their best, so it's useless... But in our case Marco died on impact."
Over 50,000 fans are expected to line the streets of Coriano to pay their final respects to Marco Simoncelli Thursday.
The Italian's funeral service will be held in Coriano on Thursday afternoon and will be restricted to family members, members of Team Gresini and various guests.
Outside the church, three large television screens will afford a view to the thousands of spectators expected to attend.