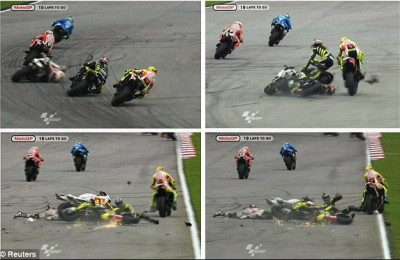 Barely a week after the 15-car wreck that claimed the life of Dan Wheldon at the IndyCar Series, Motorsport witnessed its second death . Italian Motorcyclist Marco Simoncelli was killed in a crash at the Malaysian Moto GP on Sunday.He lost control of his bike on the second lap of the race at the Sepang International Circuit and was hit by Colin Edwards and then Valentino Rossi as he slid across the track. Simoncelli crashed into the oncoming front tyres of racers Colin Edwards and Valentino Rossi. The 24-year-old's helmet came off in the collision . He was immediately taken by ambulance to the circuit's medical centre but at 16:56 local time it was announced that he had died from his injuries.
Later, at a press conference involving members of the MotoGP Race Direction, Medical Director Michele Macchiagodena said that Simoncelli sustained "a very serious trauma to the head, to the neck and the chest" and was administered cardiopulmonary resuscitation for 45 minutes.
The race was immediately called off by the organizers, after they realized the extent of the accident.
A message on the MotoGP Web site read: "Marco Simoncelli succumbed to injuries sustained in Malaysia."
Simoncelli's death is the first in Moto GP since Japan's Daijiro Katoh died during the 2003 Japanese Grand Prix.
Check out a video clip of the horrific accident: