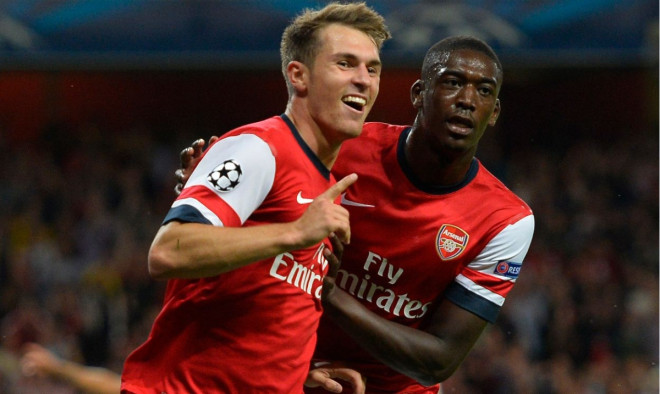 Arsenal legend Martin Keown has claimed Arsene Wenger could make Yaya Sanogo the next Emmanuel Adebayor at the Emirates.
The Gunners signed French player Sanogo last summer and Wenger started the 21-year-old during their 2-0 defeat against Bayern Munich, ahead of compatriot Olivier Giroud.
Adebayor joined the Gunners in 2006 but moved to Manchester City in the summer of 2009. The Togolese striker was impressive for Wenger's side during his time at the north London club.
Although Keown has said Sanogo could be the next Adebayor, he believes the striker is still far from being a finished product.
"It was a surprise to see Arsene Wenger select Yaya Sanogo up front for such a big game, but the French forward got into some good positions," Keown explained in his Daily Mail column.
"He is still a work in progress but he is a spirited player. When you look at how Wenger worked to improve Emmanuel Adebayor, you wonder if he can do the same thing with Sanogo."
The first leg of the last-16 Champions League tie between the Gunners and three-time winners Bayern saw both sides miss a chance each to score from the spot kick in the first half. Mesut Ozil missed a chance to make the scoreline 1-0 for Arsenal while David Alaba failed to convert from the penalty spot for the visitors.
Manuel Neuer and Ozil have played together for their national side Germany on several occasions. Keown claims Bayern keeper knew exactly as to where the Gunners' record-signing was going to shoot, which helped him stop the former Real Madrid star convert from the spot kick.
"There was a fantastic atmosphere at the Emirates and Arsenal made a terrific start. Arsenal put in a titanic effort to try and stay in the game but with 10 men they could not keep out Bayern," the former Arsenal defender said.
"It was the second penalty that Ozil has missed this season and he now has a 25 per cent career success rate from the spot - four taken, one scored."
"It's not a great record for a German, but it probably didn't help that goalkeeper Manuel Neuer was friends with Ozil at school. Maybe he saved the playground penalties, too," Keown concluded.