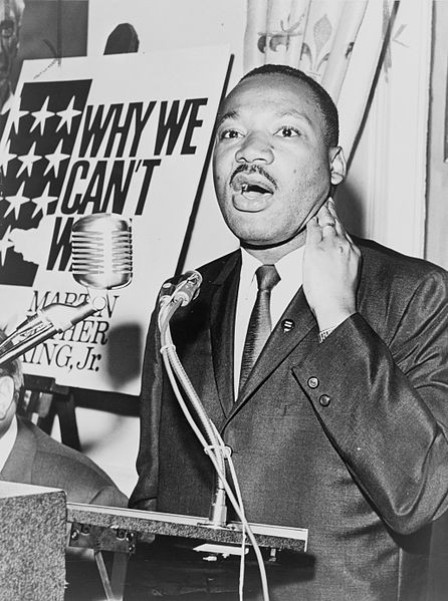 An audio recording of a previously unknown interview with African-American civil rights leader Martin Luther King has been retrieved from a box in the attic of a house in Tennessee.
The tape was discovered by a man who was rummaging in his 80-year-old father's attic, and found a pristine reel-to-reel recording marked "Dr King interview, Dec 21, 1960".
Stephen Tull said his father, an insurance salesman, had interviewed the civil rights activist three years before the famous "I have a dream" speech, as he was writing a book about non-violence and the civil rights movement he never completed.
"No words can describe. I couldn't believe it. I found a lost part of history," Tull said.
Because the recording was unique, the tape was described as "a unicorn" by collector Keya Morgan, who authenticated the tape and is arranging its sale.
"The quality is so good, so crisp, that it sounds like Dr King is sitting in my parlour having tea with me. It's an intimate, frank, low-key discussion, but he still comes through so clearly and powerfully," he said.
Although many recordings of King's speeches and interviews are known to exist, Morgan said he heard only of one other original recording being uncovered in the last 20 years.
Morgan estimated the tape value to range between $20,000 and $60,000.
During the interview, King talks about the meaning of non-violence, reports his impression of a recent journey to Africa and predicts the importance the civil rights movement will have in American history.
Moral ends through moral means
"Non-violence means the refusal to use violence in any way in order to achieve a social end. It is a method that seeks to secure moral ends through moral means," he said.
"It grows out of the whole concept of love because if one is truly non-violent that person has a loving spirit, he refuses to inflict injury upon the opponent because he loves the opponent.
"I am convinced that when the history books are written in future years, historians will have to record this movement as one of the greatest epochs of our heritage," he added.
"In the United States we must solve this problem of racial injustice if we expect to maintain our leadership in the world and if we expect to serve as a moral voice in a world that has 2/3 colour."
King was gunned down in 1968 in Memphis, Tennessee, not far away from the city of Chattanooga, where the interview was recorded eight years earlier.
"To hear his voice and listen to his words was so moving, so powerful," said Lewis. "I wish people all over America, all over the world, can hear this message over and over again," US Republican John Lewis, a friend of King, said.