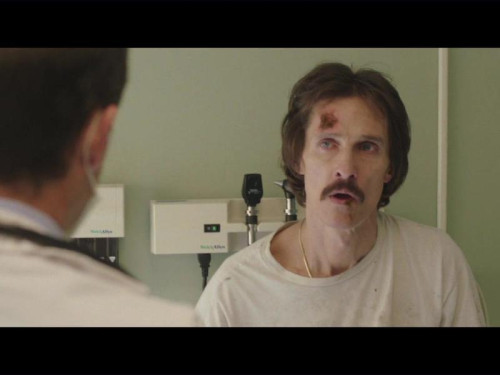 Oscar nominee Matthew McConaughey, who shed three stones to play Aids sufferer Ron Woodroof in the film Dallas Buyers Club, has revealed how his changed appearance made him worry his wife might not fancy him anymore.
McConaughey lived on a daily diet of egg whites, chicken, a small pudding and diet Coke for months to enable him to reach his target weight.
"The first time I saw myself on screen I thought I looked like a reptile," said McConaughey. As for wife Camilla Alves, the mother of his three children, "perhaps it was not so appealing to be intimate when I was in that zone".
The 1980s-set movie tells the true story of how electrician and rodeo cowboy Woodroof learns he has Aids and just months to live. On hearing of a lack of approved medications in the US he goes to Mexico where he purchases alternative treatments and smuggles them across the border. Woodroof then forms a club for other Aids-sufferers which enables many of them to receive medication from Mexico.
Woodroof succumbed to the disease in 1992.
McConaughey, 44, who has appeared in a wide range of movies including The Wedding Planner and A Time to Kill, says losing three stones was physically hard but in some ways gave him a sharper focus as an actor.
"I felt incredibly clear-headed and purposeful, and on set there were no starvation dramas, I just wanted to get on with the job and tell this incredible story."
However off-set McConaughey found his starvation diet hard going: "I got down to nine-and-a-half stone and I was always hungry, and irritable. My body resembled a little baby bird with its mouth open, crying 'Feed me, feed me' and you realise momma bird ain't going to feed you. It's hard."
McConaughey isn't the first actor to go to drastic lengths in order to prepare himself for a movie. Christian Bale starved for four months to lose 62lb for his part in The Machinist (2004), and 50 Cent lost four stones to prepare for a role in the film Things Fall Apart (2011).
Perhaps most famously, Robert De Niro gained 60 pounds in order to prepare for his role as boxer Jake la Motta in Raging Bull (1980).