Great Britain continued its medal rush at Eton Dorney as the men's four and women's double sculls struck rowing gold on Super Saturday at the London 2012 Olympic Games.
The quartet of Alex Gregory, Peter Reed, Tom James and Andy Triggs Hodge beat Australia to the coxless four gold, to retain Team GB's title from the 2008 Games in Beijing.
But GB's medal haul on the water didn't end there, with Kat Copeland and Sophie Hosking rowing to a remarkable gold in the women's sculls.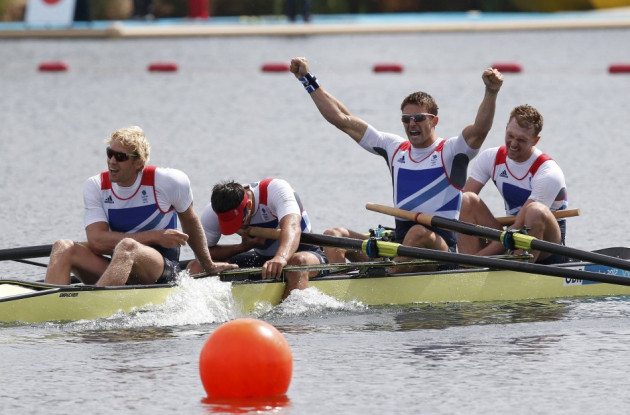 Team member Alex Gregory said: "It was just simple. It didn't feel real to be honest.
"I just thought, 'oh my God this is actually happening!' We just did the race and I was just counting the strokes, counting 30s, 60s, 90s... then everything fell silent in our boat and we were in a good position. I didn't look across but I was aware of where we were and we were up the whole way.
"Everyone says it doesn't feel real, it just doesn't feel real. I can't describe it."
Peter Reed, one of the victorious coxless four in Beijing four years ago, said: "Double Olympic champions, I can't believe it. You go through everything in your mind before but you never think about it after.
"I can't believe it. The hours we do, the pain and it's all worth it in the end. I said four years ago thank you to the Royal Navy for giving me the chance, but all of us have people to thank.
"We can't do it without you and I'm just pleased we've done it."
The four led from the outset, and held off the threatening Australians until the end.
Tom James said: "I was trying to focus on our boat. Because you've got everyone on your right and your peripherals don't go far enough and you've got to focus on what you do.
"I knew once we got off the start and we got into rhythm it was good. It was good and I felt confident. Whatever happened on our right it was all about our boat.
"And it was just unbelievable, and it started raining. And the wind was blowing and I thought this was is this is what we train for, and it was our day. You can't describe what this atmosphere is like to people watching at home. It's beyond words, it's magic, it's emotional. It's so exciting to be here and I'm so proud."
Andy Triggs Hodge, now a double Olympic champion, said: "What I felt down that row was some impeccable rowing. We executed our plan and it was a masterpiece.
"It took four years to make that, four years training every day, pulling out everything we had and it was without question our finest piece of rowing.
"And everything the support, every person shouting, every person at home, every person who had picked us up off the floor after training every day and we owe a debt of thanks to everyone who helped us on our way."
While the coxless four went into their final as favourites for gold, the pair of Kat Copeland and Sophie Hosking defied the odds to snatch victory.
An overwhelmed Copeland said: "I can't believe this is real. We've just won the Olympics. I've been trying all week not to think about it because it has been making me cry."
Hosking added: "It's something we have been working on for so long and there are so many people we have to thank."
Meanwhile, Zac Purchase and Mark Hunter were unable to retain their lightweight double sculls title, winning the silver medal after Denmark's Mads Rasmussen and Rasmus Quist, took the gold.