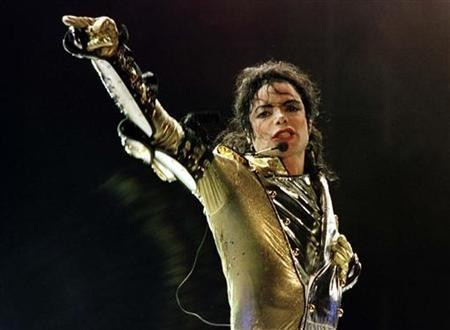 Previously unseen backstage footage of Michael Jackson during his 1992/1993 'Dangerous World Tour' could fetch more than £4 million when it goes up for auction later this month, it has been revealed.
The documentary, which was recorded by a documentary crew but did not meet Jackson's expectations, was given to auctioneers at Fame Bureau by an unnamed chauffeur who was handed the rights by the popstar after the filmmakers were fired.
According to the unnamed driver the Jackson gave him the film as a 'reward' for his 'transportation services'.
The driver, who kept the tape a secret, only revealed its existence after the superstar died from an overdose of Propofol in June 2009 by posting a brief clip on YouTube.
Despite Jackson's record label and lawyer's efforts to claim exclusive rights to the documentary, a judge ruled in favour of the driver as it was deemed it a gift.
The two-hour documentary features behind-the-scenes images and contains footage of Jordy Chandler, who accused Jackson of child abuse before he and his parents settled out of court.
CEO of Fame Bureau auctioneers Ted Owen said: 'I'm very excited that this tape is finally going to be seen because of its quality, the amount of cameras used and the sheer closeness you are to the performance when watching it.'