What 26 countries with their hi-tech aircraft and satellite couldn't do, Courtney Love did with just one picture. Yes, she has claimed to have found the missing Malaysia Airlines plane!
The mystery of the missing Malaysian Airlines flightMH370 is finally solved by former singer Courtney Love with a picture containing three red arrows and two words, 'Oil' and 'Plane'.
The Celebrity Skin singer posted a picture with red arrow marks pointing to 'something' on both Twitter and Facebook and wrote that it does look like a plane and an oil slick.
The Singer tweeted the picture saying,
I'm no expert but up close this does look like a plane and an oil slick. http://t.co/AR005kNTYR prayers go out to the families #MH370

— Courtney Love Cobain (@Courtney) March 17, 2014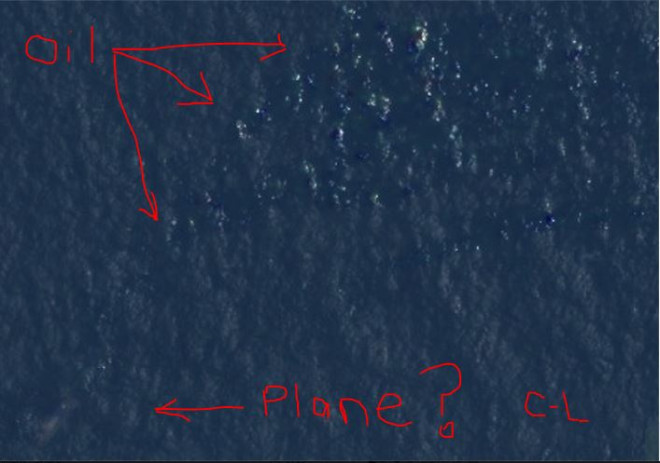 Like much of the world, alt-rocker Courtney Love too is eager to know where the Malaysian Airlines Flight MH370 has disappeared.
Love claims to be no expert while tagging a picture for Tomnod.com, a site that appeals to visitors to tag possible clues of wreckage, oil slicks and life rafts in satellite images to assist in the search operation.
"I saw an article asked people to help search on Tomnod.com so I decided to give it a shot," the actress explained her claims to New York Magazine.
"I figured a plane would still be leaking some fuel so I searched for signs of an oil slick. I found one and there appeared to be an object nearby. I don't know if it is the plane or not, but I figured I'd do my part and bring some awareness to the site, for the sake of all the families involved," Love added.
The singer-actress made a mockery of herself after posting the picture and her followers flooded her wall with sarcastic replies.
@Courtney @DR24 you do realise those are arrows that point to completely nondescript areas of ocean? Bless — Mike Jennings (@mikejjennings) March 17, 2014
@Courtney @DR24 ive looked at it...and sorry courtney it sadly looks like nothing but water. Damn shame too.

— tha ufo (@ufo_tha) March 17, 2014
@Courtney court I think you found the plane!!! You should join FBI! — Greg Smeltzer (@GregSmeltzer) March 17, 2014
.@Courtney I think I found the plane too, oh no there's a robot pic.twitter.com/lVlthf70Bu

— Melissa Martin (@DoubleEmMartin) March 17, 2014
@DoubleEmMartin @Courtney that's clearly a fake as that is a 737 . Nice try ! — carlo todaro (@juventus777JETS) March 17, 2014
.@Courtney I zoomed in. Looks like the Nevermind baby to me. Sorry.

— tough barton (@Tuftebarten) March 17, 2014
The search operation, including over 26 countries with numerous ships and aircraft, is yet to find an answer to the hundreds of questions regarding the missing plane.
The mystery generated a wave of weird theories about the fate of the Boing 777 that carried 239 people on board.
The Malaysian aircraft's disappearance enters its tenth day and countries across the world are still searching for possible clues about what might have happened.
Meanwhile, Australia is starting a search operation to locate any possible wreckage of the missing Malaysia Airline flight MH370 in an area of 3,000 kilometres south-west of Perth.