Muhammad Ali At 70: Social Activist Who Changed The World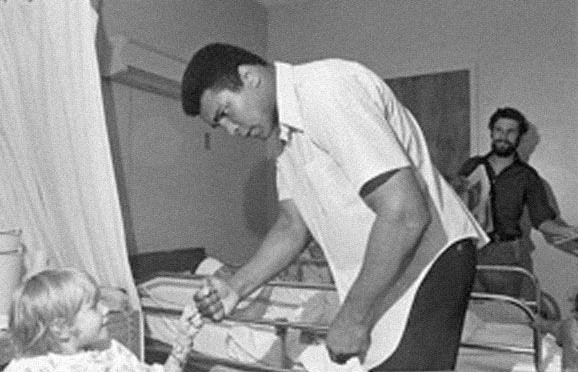 More than 50 years after he burst on to the scene at the 1960 Rome Olympics, three-time World Heavyweight champion Muhammad Ali remains one of the most well-known and respected sports figures of all time.
Even though he has received worldwide recognition for his success as a boxer, Ali's fame goes beyond the ring and his greatest triumph lies in his legacy as a champion, leader, social activist and humanitarian.
The legendary fighter has long been recognised for his philanthropic efforts and his work as a social activist, which includes a landmark journey to Iraq in 1990, to negotiate the release of 15 hostages.
While his refusal to be inducted into the United States Army to fight in the Vietnam War led to him being banned from the sport he loved at the height of his career, his inspiring courage and anti-war stance helped spearhead the growing anti-war movement of the 1960s.
His post-boxing humanitarian endeavours include putting his name to many initiatives for peace and humanitarian aid as well as anonymous donations of millions of dollars to a variety of individuals and organisations surpassing race and class barriers.
Appointed the United Nations Messenger of Peace in 1998, Ali has travelled across continents to hand-deliver food and medical supplies to poor and war-ravaged communities.
Despite battling with Parkinson's disease for three decades, he has inspired millions of people.
His work as a humanitarian has been immortalised in the Muhammad Ali Centre.
Opened in his Kentucky hometown of Louisville in 2005, the centre is a non-profit cultural and international centre designed to pay homage to the legendary heavyweight champion's phenomenonal career and inspiring life.
"It's much more than a building. We are here to create an enduring legacy," said spokeswoman Jeanie Kahnke.
Throughout his life Ali has remained consistent in his work and proved that as a sportsman you have the power to alter social values and affect change.
© Copyright IBTimes 2023. All rights reserved.