The world of South African rugby has paid tribute to the nation's former President Nelson Mandela, who died at the age of 95.
Mandela, who spent 27 years in prison for opposing apartheid in the white minority ruled country, helped win over a white population and cement a new era in South Africa by donning the Springboks jersey during the 1995 Rugby World Cup.
The move to wear the jersey, long associated with segregation in South Africa in part due to the team's white-only selection policy, was instantly praised and seen as a pivotal moment in helping breaking down the last barriers of apartheid in the newly declared 'Rainbow nation'.
Mandela, who was elected president one year prior to the World Cup being held in South Africa, even took one step in helping to show a new found unity in the country by sporting a number six on the back of his jersey, the same number worn by the Springbok's white captain, Francois Pienaar.
The rugby world has now come together to praise Mandela for not only his achievements in life, but also helping creating one of the most defining moments in sporting history.
International Rugby Board (IRB) chairman Bernard Lapasset led the tributes on behalf of the global Rugby community: He said: "Mr Mandela was a truly remarkable man. I was honoured to be with him during the historic days of Rugby World Cup 1995 and saw his incredible impact on his nation and his people. His wisdom, intelligence and sheer presence was a wonder to behold.
"I am so proud that the rugby family could play its small part in supporting Mr Mandela's efforts to establish the new South Africa and that our tournament came to symbolise the emergence of a new nation. He changed the world and we were privileged to witness and embrace his work."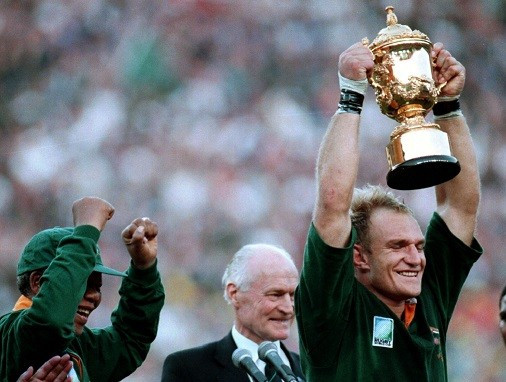 IRB Vice Chairman and South African Rugby Union president Oregan Hoskins said: "Madiba was a true icon of inspiration and as much as South Africa owes so much to him, so does rugby.
"Through his extraordinarily vision, he was able to use the 1995 Rugby World Cup as an instrument to help promote nation building just one year after South Africa's historic first democratic election.
"Mr Mandela was also instrumental in retaining the Springbok as the emblem for our national team at a time when a chorus of voices advocated a change of the symbol, for various reasons. It was an act of reconciliation and generosity of spirit which no one could have expected.
"His name will rank among that of the greatest liberators and humanitarians for as long as mankind walks the earth. It was our privilege to have lived in this country during his lifetime. "
Australian Rugby Union CEO Bill Pulve added: "On behalf of Australian Rugby, we extend our condolences to the Mandela family, South Africa and the South African rugby community."
Current Springboks captain Jean de Villiers also remembers the day. He said: "His presence at a test match just lifted the crowd and energized the team - it is actually hard to describe."
Even for New Zealand's losing rugby captain on that famous June day in 1995, Sean Fitzpatrick, Mandela's effect was too momentous not to appreciate.
"Afterwards, when we were driving back to our hotel crying, to see the sheer enjoyment of everyone running down the streets ... black, white, coloured, whatever they were, just arm in arm celebrating sport.
"He saw the bigger picture," Fitzpatrick added.