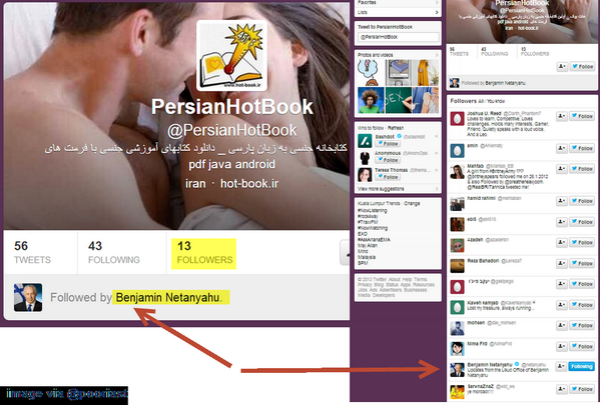 Israeli prime minister Benjamin Netanyahu's official Twitter account has followed and quickly unfollowed an Iranian portal of sex books amid the mockery of Iranians on social media.
The Times of Israel reported that Netanyahu's feed subscribed to @PersianHotBook - whose description reads: "the first library of hot sex books in the Persian language" - at 1am on Sunday morning.
The idea that Mr Netanyahu, a bitter opponent of Iran, was logging on to "the first library of Persian language hot sex books" caused great amusement among Israelis and Iranians.
"Now we know why Netanyahu wants to penetrate Iran so badly," was a typical response.
A few hours later, however, Netanyahu seemed to have realised the mistake and unfollowed the feed.
Prime Ministerial spokesman Mark Regev told The Times of Israel that his office was not linked to Netanyahu's Twitter account. "I'm glad to say the Prime Minister's Office has no connection to this," Regev said.
The Likud Central Committee said the move to follow the Persian porn site was a "malfunction", according to Israel Radio reporter Chico Menashe.
Netanyahu's gaffe over Iranians was the second in a week after he was slammed on social media for telling the Persian BBC channel that Iranians should topple their government so that they can finally wear jeans.
Thousands of Iranians then took to Twitter to post pictures of themselves wearing them.