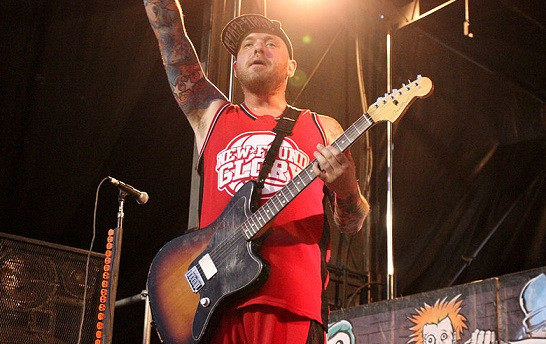 Steve Klein, the former guitarist band of punk band New Found Glory, has been charged with a series of child sex offences, it has emerged.
Klein, 34, appeared before San Luis Obispo Superior Court in California in December to plead not guilty to a series of felony charges, including two counts of lewd conduct with a child under the age of 14, three counts of lewd conduct with a minor of 14 or 15 and possession of child pornography.
If found guilty of all charges, Klein faces a maximum of 27 years in jail.
Klein was not held in custody following the arraignment and is due to appear in court next on 20 March. Klein – one of the band's founding members - left the group after six years before his court appearance.
After news of Klein's charges emerged, the band confirmed they parted company with Klein when he told them about potential allegations against him.
The group said in a statement: "Upon our return from Warped Tour Australia, Steve made us aware of possible allegations that might be made against him.
"At that point, not knowing all the details, we made the decision to part ways in order for him to deal with these personal issues. Us four members of New Found Glory have given our entire lives to this band and will continue to do so."
Klein's attorney, Debra White, spoke of how he is "devastated" with the accusations but added he is not accused of having physical contact with any children. White said the accusations surround online video conversations he had with females he believed to be over the age of 18.
White added: "In the matter of Steve Klein, since his case has now been brought into issue by the media, I am permitted to make a few statements. To that effect, I offer you the following indisputable facts about the accusations:
"1. Steve Klein is not accused of having any lewd actual physical contact with any minor.
"2. All charges against Steve are derived solely from online consensual video chats between Steve and some female strangers he met on an adult website. Steve believed the females were over the age of 18.
"3. The females alleged to be 'minors' in this case are not known females. This means that no one, not the prosecution, not the police, and not the defence, actually know who the females are and no one knows their true age.
"4. The possession of child pornography charge is based solely on Steve allegedly 'possessing' the videos of chats with the female strangers from the adult website.
"This is about all I am permitted to disclose at this time. But I can tell you, from my many years of experience in this specialty area of criminal defence, I wholeheartedly believe that Steve Klein is innocent of all of these charges."
New Found Glory formed in the Coral Springs area of Florida in 1997. To date they have released seven studio albums.