Newcastle United manager Alan Pardew has reassured Tottenham Hotspur fans that his side will enter next Sunday's clash with Arsenal with every intention of taking all three points.
After securing their Premier League status for another year following a 2-1 victory over Queens Park Rangers, the Magpies boss claimed that he did not care if the Gunners hammered his side 4-0 on the last day of the season next Sunday, such was his relief of having survived relegation.
Such comments earned Pardew the wrath of Spurs fans, with the game at St James' Park next week likely to decide whether the Gunners or Andre Villas-Boas' side claim the final Champions League spot.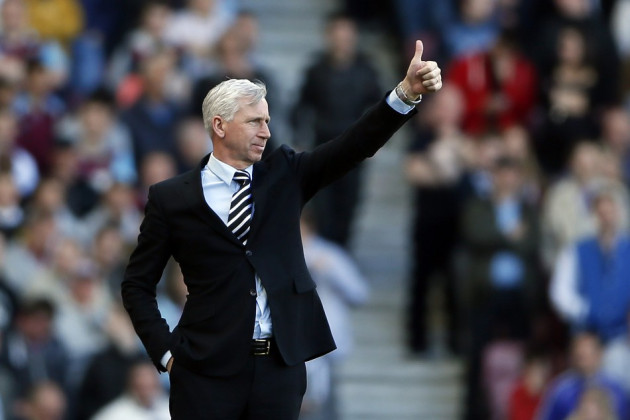 But the Magpies boss has moved swiftly to ease the concerns of Tottenham fans, insisting the comments made after the QPR game were not to be taken seriously.
"I know people will have picked up on my comments about not caring about the result against Arsenal, which were of course a joke," the manager told Newcastle's official website.
"It is definitely not the case that I would be happy for us to lose 4-0 against Arsenal on Sunday, I simply want our players and fans to be able to enjoy the game without looking over their shoulders.
"Even though we are now safe we will be putting in the same effort that we would for any other Premier League game.
"Our last two results at St James Park - against Sunderland and Liverpool - have been nowhere near good enough, and Sunday gives us the chance to put that right."
With Chelsea now comfortably holding third place in the Premier League, it has been left for the two north London rivals to battle it out for the remaining right to participate in Europe's premier competition next season.
Spurs currently occupy the coveted fourth spot on 69 points courtesy of their weekend win over Stoke City. Arsenal lie two points adrift on 67, but could leapfrog Villas Boas' men should they win their game in hand against relegation threatened Wigan on Tuesday evening.
Should Arsenal beat the Latics, a result which would condemn the FA Cup winners to relegation, then it will be left to the final day of the season to see who claims fourth, with Arsenal travelling to St James' Park and Tottenham welcoming Sunderland to White Hart Lane.