Menelik Watson will have a chance to become a major name in American football after he was selected in the second round of drafts by Oakland Raiders. The offensive tackle, who was born in Longsight, Manchester, was the 42nd overall pick and will now join fellow Brit Jack Crawford in California.
The 24-year-old was not the only hopeful from these shores to secure a contract as 2012 Olympian Lawrence Okoye was signed as a free agent by San Francisco 49ers, while Tom Wort, originally from West Sussex, joined Tennessee Titans, also as a free agent.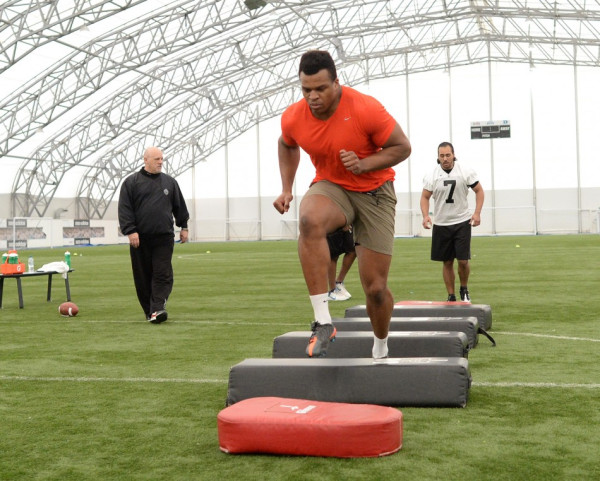 Watson arrives in the NFL having started just 20 games in his life, yet there is genuine excitement for a player whose physical attributes impressed the various scouts in America. At 6ft 5" and 310lbs, he is surprisingly agile and light on his feet, a factor which impressed Raiders' head coach Dennis Allen.
"We like his athleticism," said Allen. "He's got excellent feet, and he's got a great punch."
Despite being a relative novice to the game, Watson believes that he can make an instant impact, telling the Guardian: "I don't consider myself raw. That's been a lot of the talk, 'He's raw,' and all this stuff. I don't consider myself raw. I just think the way I do things is a lot different than the traditional.
"There's obviously still a lot of techniques I need to learn, there's a lot of little things but he great thing about football is that, more so than other sports, you never really learn everything. There's still things you can improve on, especially when you start aging, there's other things that can give you an advantage. I definitely do know there are a lot of technical things I need to polish up. [But] I don't necessarily consider it being raw."
Watson does however have more experience than Okoye who must attempt to stand out during pre-season. Team can have as many as 90 players at this stage, but that will be cut to around 53 by the time the regular season starts.
Okoye impressed scouts at a regional event earlier this month as it is not often they see a defensive linesman who weighs more than 300lbs run the 40-yeard dash in just 4.78sec. However, he has never played a game of American football in his life and must now show that he can quickly adapt to the sport.
Okoye was pleased that he will also be in close proximity to his fellow Brits, Watson and Crawford, who will also be based in California.
"It's great to see so many Brits in such a close vicinity," revealed Okoye. "I'd love to touch base with them [Watson and Crawford]. Obviously Watson in particular, coming from where he's come from, has done unbelievably well to get drafted in the second round. I'm really happy for him and I'll try to make contact with both those guys at an appropriate time."
There was also good news for Wort who missed out in the draft but was picked up as a free agent by the Titans. The Crawley-born linebacker moved to Texas at the age of 14 and has excelled while playing for the University of Oklahoma.