Arsenal's Long Serving Player Expresses Desire to Leave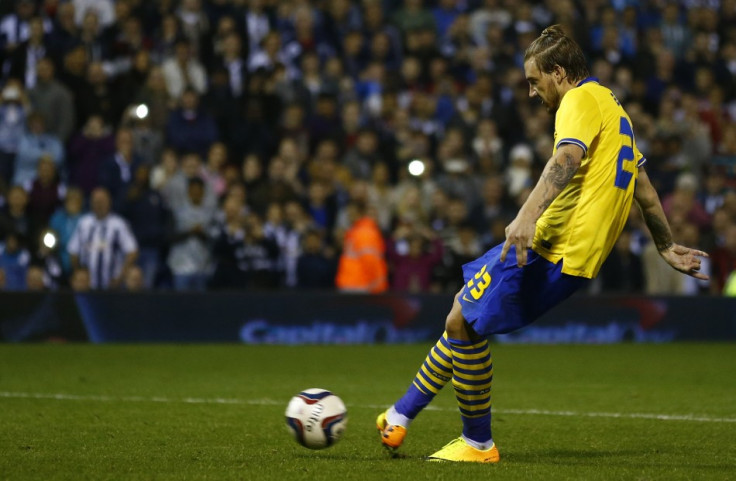 Arsenal striker Nicklas Bendtner has expressed his desire to leave the club after revealing that the Gunners are looking to offload him.
The Denmark international spent the last two seasons on loan with Sunderland and Juventus before returning to the Emirates in the summer. The 25-year-old had a disappointing spell in Italy during the Turin club's title-winning campaign last term.
Bendtner has made only two starts for the North London side which came during their Carling Cup fixture.
The striker is yet to start a Premier League game this season, making only two appearances from the bench for the Emirates club. Lack of first team action has left the striker frustrated as he is looking for the exit.
"At the moment I am an easy target for [some of the fans] because I want to leave the club and Arsenal don't want to keep me," the Guardian quoted Bendtner as saying.
"And these haters - they always choose the same solution. But I think it is unfair to have a go at me when I had a transfer in place in the summer and Wenger told me to stay."
"I am training far more seriously [now] than I have ever done in Arsenal. I am in the process of building myself up so that I become this strong machine, this perfect product to sell. I want to start as strongly as possibly in my next club," the Dane said.
Meanwhile, Arsenal received offers in the summer for Bendtner's service, but continued with the north London club. The Dane has lashed out at Arsene Wenger for forcing him to train with the reserves.
"As I have been at the club since I was 16 I found it ridiculous that they placed me in the reserves and let me train on my own. [But] suddenly everything was like old times again," the striker said.
"I was training with the first team, I was hanging out with the first team and I had a dietician again. From being completely out to being completely in again."
"Everything was in place for me, there were three clubs that were just waiting for me to say 'yes please' to them," he said. "I was very disappointed when he [Wenger] phoned because I was ready to move on. I didn't actually think that they wished to keep me," he added.
READ IBTIMES UK'S COMPREHENSIVE UNITED-ARSENAL PREVIEW HERE: Manchester United v Arsenal, Premier League: Where to Watch Live, Preview and Team News.
© Copyright IBTimes 2023. All rights reserved.