Lesbians Banned From Playing Football in Nigeria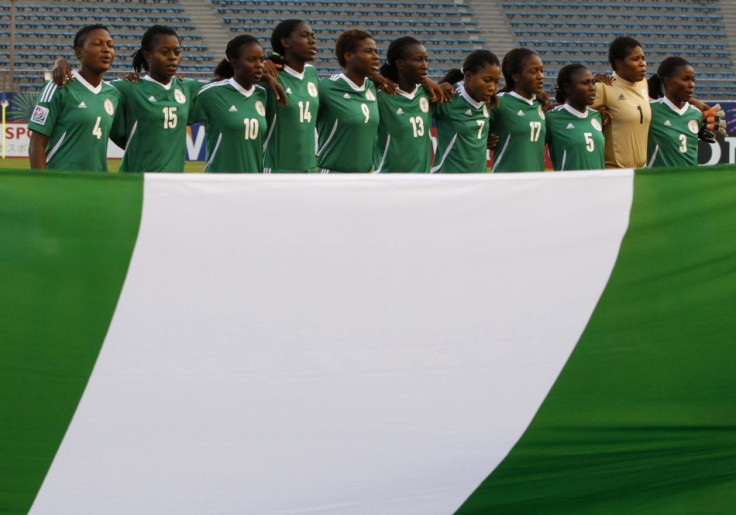 The chair of the Nigeria Women's Football League has said lesbianism is officially banned from the sport.
Homosexuality is illegal in Nigeria, so an openly gay player would not only lose their job, but they face being stoned to death - the maximum penalty for being gay.
Dilichukwu Onyedinma, who is also a member of the Nigerian Football Federation [NFF], said: "Any player that we find is associated with it [lesbianism] will be disqualified.
"We will call the club chairmen to control their players and such players will not be able to play for the national team.
"It [lesbianism] is happening but we have to talk to the clubs and look inside the clubs, and these things have to do with clubs.
"There are particular clubs that don't even want to hear about it and once they heard it the players involved will be sacked."
As a result of her comments, Fifa has had to contact the NFF for clarification, as the organisation says it is against "all forms of discrimination", although the repercussions for the NFF are unclear.
Morally very wrong
Her comments come two years after Super Falcons coach Eucharia Uche said she had eradicated homosexuality from the squad, adding that lesbianism was "morally very wrong and a dirty issue".
She told the New York Times: "The lesbians in our team were really a big problem. But since I'm coach of the Super Falcons, that has been cleared up. There are no more lesbian players on my team. I cannot tolerate this dirty life."
Fifa responded to her comments by saying it would be speaking with Uche, and reminded people of its mission statement: "We want to use the sport in overcoming social and cultural obstacles for women with the ultimate aim of improving women's standing in society.
"We are here at a FIFA event and will point out that it would be best to express oneself neutrally."
In the UK, the first lesbian team was set up in 2011. The Belfast Braves, based in Northern Ireland, said: "We know that Football is one of the most homophobic sports in the UK - premiership matches are often filled with homophobic taunts every weekend, this is no longer acceptable and we feel it's important for us and the wider lesbian community to be openly represented in football.
"We want to change people's attitudes towards lesbian and gays in sport including football and changing their attitudes towards LGBT in sports."
© Copyright IBTimes 2023. All rights reserved.