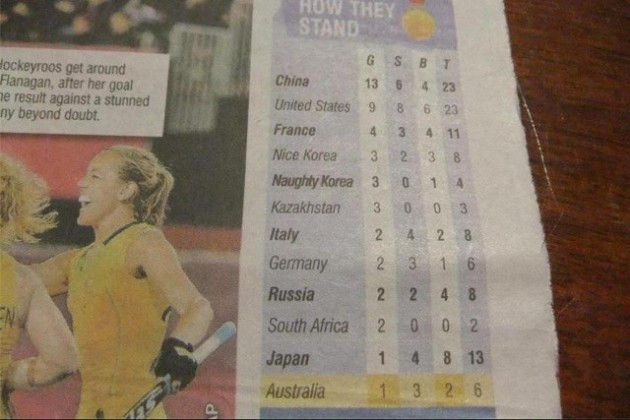 An Australian newspaper has pulled off a gag on the Korean peninsula, calling the North "Naughty Korea" and the South "Nice Korea" while mentioning their names in the Olympics medals table.
It is not yet clear whether the Brisbane Metro's dig at the Koreans will be taken lightly or be brushed off for what it is.
The ribbing is trending on Twitter drawing support as well as criticism that it is racist in taste.
So far, North Korea has won five medals of which, three gold medals came in weightlifting; it bagged a gold and a bronze in judo.
On the other hand, South Korea has seven gold, two silver and five bronze medals. Table tennis players from the rival countries will face each other on 4 August.
The mockery comes at a time when the defiant North is struggling hard to cope with its internal woes. The North has recently experienced severe floods and is seeking international food aid.
The Australian daily's dig is apparently aimed at the North's conduct over its nuclear programme. The country has paid little heed to Western nations' suggestions that it curtail its nuclear ambitions.
In an earlier controversy during the London Olympics 2012, North Korea's women's football team walked off the ground at Glasgow's Hampden Park following a flag row. A South Korean flag was shown beside images of the players on a giant screen before kickoff. The players returned to the stadium only after the organisers apologised to North Korean officials.