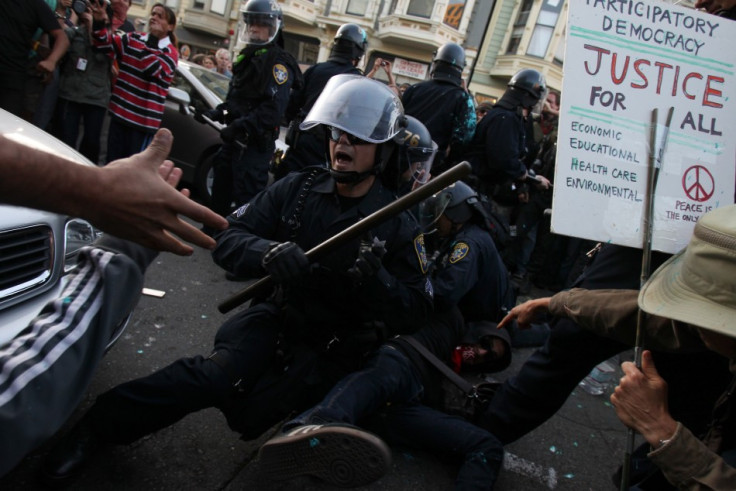 Following reports of mass arrests and acts of brutality against participants in the Oakland chapter of the Occupy movement, the hacker cell of the Anonymous collective has enacted a revenge attack, hacking the Oakland Police networks.
The attack was first announced via Anonymous' AnonOps Twitter feed. "@Anon_Central: Admin/User/Password Dump of oaklandnet.com Problem Oakland authorities? F--- you! >> pastebin.com/S8VRwRxQ #Anonymous," read AnonOps' tweet.
The attack saw the collective follow its previous pattern of breaking into the police's networks, going on to steal and publish data taken during the cyber-raid.
The attack immediately followed a post on the AnonOps web site attacking U.S. police treatment of the Oakland protesters.
The post specifically highlighted the the police's treatment of an unnamed Iraq war veteran participating in the protest. The veteran is reportedly in a critical condition following police's use of tear gas, flash bang grenades and rubber bullets on protesters.
Reports of police violence against Oakland protesters re-emerged Tuesday on the movement's Web site, occupyoakland.org. The Web site published statements charging the U.S. police of numerous acts of brutality, during a recent raid designed to evict protesters from their encampment.
"This [Tuesday] morning at 5am over 500 police in riot gear from cities all over central California brutally attacked the Occupy Oakland encampment at 14th & Broadway. The police attacked the peaceful protest with flash grenades, tear gas, and rubber bullets after moving in with armored vehicles," read the protesters' statement.
Despite reports of continuing violence, statements from protesters at the scene suggest a significant number of individuals are continuing to refuse to end the protest.
Though unconfirmed, the protesters allege that at least 70 protesters at Oakland have currently been arrested.