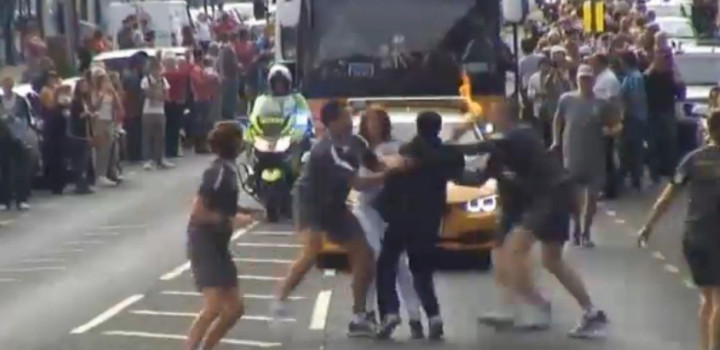 Kent police have arrested a 17-year-old boy after he tried to snatch the Olympics torch as it passed through Gravesend in north Kent.
The flame was being carried by 23-year-old Anna Skora on Day 63 of the relay when the boy ran out from the crowd towards the torchbearer before he was grabbed by security guards.
A spokesman for Kent Police said: "The man, who is from Gravesend, was arrested within seconds and he is now in custody.
"No one was injured in the incident and the torch continued on its way without disruption."
It was not the first time over-enthusiastic trophy-hunters made a grab for the torch as it was carried through Britain's streets.
Security bubble
Two schoolboys attempted a daring snatch of the torch in Coventry. They attempted to grab the torch, which was being carried by a group of five NHS workers, before being ushered away by security officers.
The Metropolitan Police, from which the torch security officers are drawn, said: "We would like to remind members of the public not to attempt to breach the security bubble around the torchbearer."
The torch is due to arrive in London where a Royal Marines commando will abseil from a helicopter with it. The torch will be kept secure overnight in the Tower of London, where the Crown Jewels are kept.
Security has been tight around the torch as it snaked its way along the 8,000-mile (12,800km) relay around Britain and the Republic of Ireland.