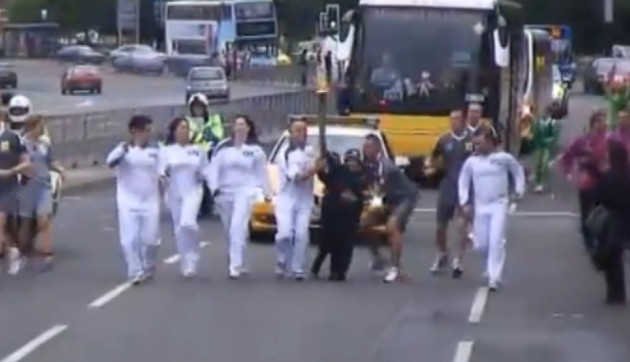 Two cheeky schoolboys attempted a daring snatch of the Olympic torch as it travelled through Coventry.
The boys, wearing black beanies and school uniform, managed to sneak through the tight security surrounding the flame as it made its way along Sky Blue Way in the city centre.
They made a grab for the torch, which was being carried by a group of five NHS workers, before being ushered away by security officers.
Although the relay was not disrupted, the Metropolitan Police - which is responsible for the security of the iconic flame during its travels through the country - warned bystanders against entering the "security bubble".
"Two children entered the security bubble around the torchbearer and were moved by the torch security team," said a Met spokesperson.
"Although there was no disruption to the relay, we'd like to remind people not to enter the security bubble. This is for their own safety as well as the torchbearers' - the convoy vehicles are constantly moving."
Thousands of people had gathered to witness the torch pass through Coverntry on day 45 of the torch relay.
The torch was recently carried by 12-year-old Dominic MacGowan, the youngest torchbearer of the entire route. Dominic, who plays for West Bromwich Albion's under-12s shadow squad, said he hoped to be an Olympic footballer one day.
On the football club's website he said: "I can't believe I'm the youngest torchbearer and would like to do it again - only as an Olympian.
"My goal is to take part in the Olympic Games. Football is my favourite sport so I'd like to be an Olympics footballer."