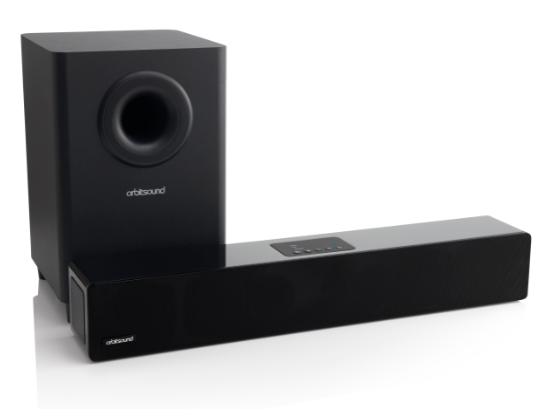 Key Features:
Wireless active subwoofer
Bluetooth support
High gloss wood finish
"Spatial sound" technology
Price as reviewed: £399
Orbitsound M12 Soundbar
Orbitsound are an intriguing company. The British audio brand was founded from the expertise of Ted Fletch who created bespoke recording studio equipment as well as working with local radio stations.
Fletcher invented a way of stereo recording using two microphones place next to one another, rather than using two microphones set apart as is traditionally done. Fletche,r and subsequently his son Daniel, have taken this "spatial stereo" technology and used it to create the Orbitsound range of soundbars which promise to fill a room with sound and don't require you to sit in a particular position to get the ideal sound.
The company has now launched its latest range of soundbars, the M series, which update last year's T series by adding an active, wireless subwoofer and Bluetooth pairing while removing the iDock on the top of the soundbar.
I've had a pre-production model of the M12 soundbar and accompanying subwoofer in my sitting room for the past week, testing our Orbitsound's claim that it produces the best sound you can get at this price point.
The price point is a sizeable £400, but for that you do get some extremely well-built and nicely design sound equipment.
Design
The M12 sound bar is 60cm in length, which makes it relatively inconspicuous in most living rooms, though its chunky size (10cm x 9cm) will mean it won't suit some living room set-ups. Though, as Daniel Fletcher pointed out, if you don't have the volume of air within the speaker, then you can't move it enough to make great sound.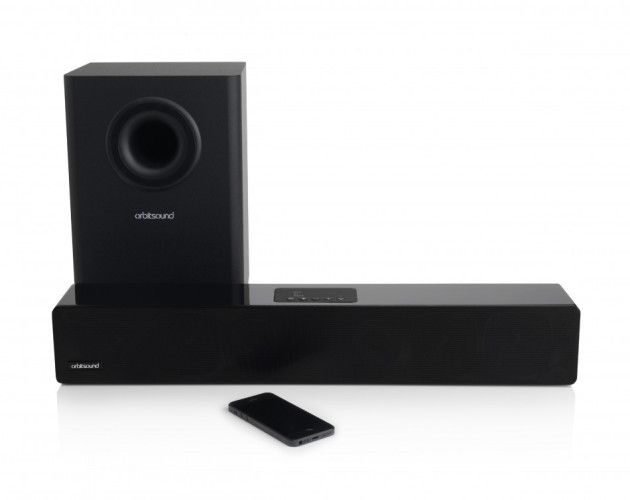 The M12's plastic frame is finished in high gloss black wood, which Orbitsound claims make for better acoustics, combined with a magnetic metallic grille at the front. Replaceable covers of different colours to suit your living room colour scheme will also be available when the M12 launches next month.
The design is understated, with an inlaid panel on the top the only thing breaking the sleek lines on the front and sides. This panel features a power button, Bluetooth pairing button, volume buttons, and an input selector.
There are also three LEDs to tell you what source (Bluetooth, Optical or AUX) you are receiving content from with the Bluetooth light also letting you know when you are in pairing more. According to Orbitsound, the final models will have an LED at the front to let users know when they've turned the volume up or down, as well as seeing with input is connected.
On the rear you will find all the traditional connections including optical, 3.5mm headphone jack and RCA port, as well as the power connector. There is no HDMI connection which will disappoint some, meaning pre-sets are not available.
The down-firing subwoofer is nothing special in terms of design, with a wooden frame finished in a soft-touch plastic rather than the high-gloss wood of the soundbar. Sitting squat on four short, fat legs, the fact the subwoofer is now wireless means you are free to position it anywhere in the room (up to eight metres away) so long as it's within distance of a power source.
The sub measures 22 x 22 x 34cm and in my living room at least was unobtrusive and didn't get in the way, thanks to being tucked away in a corner minding its own business. On the rear of the sub, you'll find an on/off switch, power connector and - as this is an active rather than a passive sub - a volume control switch.
The system also comes with a remote control, but unfortunately it lacks the quality finish of the sound equipment. It's thin, light, plastic and not very nice to use, giving an annoying click every time you press one of its buttons.
The remote allows you to change the volume, as well as adjust the treble and bass and gives you playback controls too. You can control the volume of the soundbar from your smartphone if connected, though not the bass or treble settings.
Pairing
With the wireless connection being one of the big new features of the M series, getting pairing right is a very important factor - and thankfully it does.
Setting up your soundbar and sub is a relatively simple procedure. Both have recessed pairing buttons on their respective rear panels. Long-pressing the sub's then the soundbar's (I used a paperclip) puts both in pairing mode.
A short press of the sub's button pairs it with the soundbar and a short press of the soundbar's pairing button completes the task. It's simple and worked the first time I tried it which is not always the case with wireless connections like this.
The M12 has done away with the physical dock connector we saw on the T12, opting for the all-encompassing Bluetooth standard instead. This is the way stereo systems are going, and it's a good thing too, meaning us non-iPhone users get a much bigger choice of products to choose from.
Pairing Bluetooth devices is similarly straight-forward. A long press of the Bluetooth button on the top of the soundbar puts it in pairing mode, making it visible to whatever compatible device (smartphone, tablet, laptops) you want to connect with it.
The system works so that the M12 will remember the last Bluetooth device paired with it, and will automatically "grab" content from that device, but only when you hit the play button. A neat idea which works well, and means you won't accidentally play your phone conversation over the speaker for everyone to hear, even if you are in range and connected.
There was at times a noticeable pop or crackle when connecting and disconnecting Bluetooth devices but Fletcher assured me this has been eliminated in the final product.
Sound quality
Everything else about the M12 soundbar and sub matters not a jot if the company hasn't got the sound right and luckily it has. The way the soundbar and sub work together to fill a room with sound is superb.
The "spatial sound" technology works a treat and it means you don't have to be in the sweet spot in a room to get the full audio goodness from the M12, as you typically would with a 5.1 surround sound system.
So how does it achieve this full-room sound? The Soundbar uses four 2.5in mid-high drivers with two 1in tweeters and, at either side, the two 2in "spatial generators" which help to create that complete sound stage.
These side-firing speakers, together with some complex processing, helped bring my TV to life. With TVs getting ever-thinner, and therefore their speakers getting ever worse, soundbars are going to become increasingly popular.
Comparing the TV's in-built speakers and the M12's sound is like comparing Raging Bull with the latest Danny Dyer film. But it's not enough for a £400 speaker system to be better than tinny TV speakers. It needs to add depth, clarity and power - which the M12 does in spades.
Dialogue is clear and bright, while a well-mixed TV show becomes more involving and interesting thanks to the enveloping sound created by the M12.
Music is also superb, with the processing engine handling everything we threw at it from Adele to Muse and Faithless with ease. While audiophiles may complain about some missing details in the mid-to high end, for most of us it will simply sound wonderful.
At very loud volumes there was a hint of distortion but nothing that will worry you the vast majority of the time.
Orbitsound told me it had worked very hard to reduce the latency between the soundbar and the sub and claims it is now just 10 milliseconds, one third of what Orbtisound's previous systems had, and currently the lowest in the market.
The sub has a 6.5in driver and connects to the soundbar with a 2.4GHz receiver. It produced more than enough bass for my needs and with the independent volume control, it can be atuned to whatever your situation is at home.
Verdict
The M12 is designed to fill a room and envelop you in sound. It does this with power, precision and clarity.
However, the remote is terrible, the lack of HDMI is a disappointing omission, and audiophiles may complain about the lack of stereo separation and pure audio quality.
At £399, the M12 is also not a cheap option, costing as much if not more than a lot of TVs, but it does follow through on all its promises, giving you loud, powerful and precise audio for your money.
For those looking for something smaller, the M series also features the M9 which is half the length, and comes with a smaller subwoofer, costing £299.
Both systems will be available from early March.
Scores
Sound Quality: 9/10
Design: 8/10
Features: 8/10
Value: 8/10
Overall: 9/10
The Good
Room-filling sound
Easy wireless set-up
Subtle, understated design
The Bad
On the expensive side
Terrible remote
No HDMI