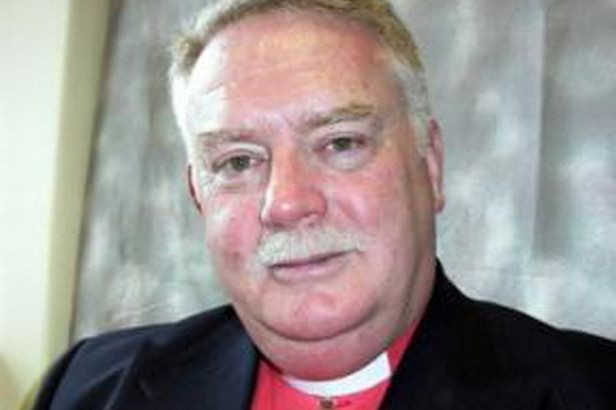 Disgraced bank boss and drug user the Rev Paul Flowers was convicted for gay sex in a public toilet, it has emerged.
Former Co-op bank chairman Flowers admitted gross indecency with another man in a public convenience in Hampshire, 32 years ago.
The former bank chief and Christian minister admitted performing a sex act with a man and was fined £75 with £35 costs at Fareham Magistrates Court.
But he was allowed to keep his post as a Methodist minister because he claimed he engaged in the lewd behaviour "at the other man's instigation."
He told the magistrate at the time his behaviour had left him "shamed and embarrassed."
Flowers has this week been engulfed by a drugs and sex scandal, only weeks after he faced MPs to explain huge losses at the so-called "ethical" bank.
The gay sex conviction was the latest revelation to hit Flowers, who was filmed allegedly buying hard drugs and boasting he was hosting "a gay orgy."
In emails sent to a rent boy, Flowers spoke of wanting to take drugs and moaned that he could not afford to pay for two young male sex workers.
Messages sent by Flowers from his Co-op email account also revealed he organised gay sex sessions with a rent-boy and took part in threesomes, with drugs taken throughout.
In one text message he boasted that a party he was planning was "turning in to a two day, drug fuelled orgy!!!" On the day he answered questions from a Commons committee he revealed he was "snorting the good stuff" to a man he met on gay dating website, Grindr.
Admitting he did things which were "stupid and wrong," Flowers blamed events in his personal life, including the death of his mother, for the scandal.
Flowers, who is a former councillor for the Labour party in Bradford, said: "This year has been incredibly difficult with a death in the family and the pressures of my role with the Co-operative Bank.
"At the lowest point in this terrible period, I did things that were stupid and wrong.
I am sorry for this, and I am seeking professional help, and apologise to all I have hurt or failed by my actions."
The Co-op Group announced that a "fact-finding process to look into any inappropriate behaviour" has begun.
A spokesman said: "Given the serious and wide-ranging nature of recent allegations, the new executive management team has started a fact-finding process to look into any inappropriate behaviour at the Co-operative Group or the Co-operative Bank and to take action as necessary."
Revd Flowers could also face criminal charges following video footage appearing to show him buying £300 of banned drugs.
According to a statement by the Co-operative Group, the Board Chairman Len Wardle has stepped down with immediate effect as a result of the scandal and will be replaced by Ursula Lidbetter.