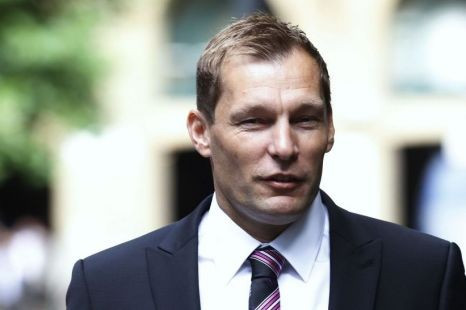 A police officer accused of the manslaughter of newspaper vendor Ian Tomlinson during the G20 protests has accepted it was wrong to hit and push him.
PC Simon Harwood, 45, told Southwark crown court that if he knew Tomlinson was walking away from police lines at the time of the incident he "would not have gone near him".
Harwood, of Carshalton in Surrey, is accused of manslaughter after he hit Tomlinson on the legs with a baton and pushed him to the ground during the G20 protests in London in April 2009.
Tomlinson got up and walked away before collapsing and dying minutes later. Harwood denies manslaughter on the grounds he used that he used reasonable force.
Footage appeared of the moment Harwood struck the father-of-nine as he was walking away with his hands in his pockets.
Harwood previously said he believed Tomlinson was being deliberately obstructive as he walked along the police line.
In cross-examination in court, Mark Dennis QC said to Harwood: "When we look at that video, we are not looking at someone who is a greenhorn, attending his first incident of violence?" The officer replied: "No".
Dennis then asked: "You do now accept that what you did in relation to Mr Tomlinson was wrong?"
Harwood replied: "Now I do, but not at the time.
"Now I've seen all the evidence and I know how poorly Mr Tomlinson was I'm sorry that I got involved, I shouldn't have hit him with a baton and pushed him."
Patrick Gibbs QC, for Harwood, asked him: "If you knew then what you know now from looking at the footage, would you have hit him with your baton?"
The officer replied: "I would not have gone near him."
Harwood also admitted he would not have pushed Tomlinson if he knew he was drunk.
Harwood previously described his shock when the footage of him striking Tomlinson was played in court.
The trial continues.