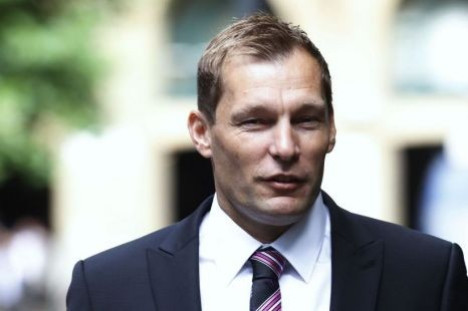 A police officer accused of killing Ian Tomlinson during the G20 protest said he hit the newspaper seller because he was being deliberately obstructive.
PC Simon Harwood, 45, is accused of the manslaughter of the 47-year-old during the London protests in 2009.
Video footage was released online after the protest showing Tomlinson walking slowly away from the police lines with his hands in his pockets before Harwood hit him with his baton and knocked him to the ground outside the Royal Exchange Buildings.
Tomlinson, a father of nine, got back up and walked 75 yards before collapsing. Harwood has denied manslaughter and claims he used reasonable force.
Harwood told the jury at Southwark crown court that Tomlinson was waiting for officers to move him on and therefore pushed him "firmly", but said he did not mean to knock him over.
Harwood said that he had been targeted for abuse by protesters after he pursued a man who attempted to scrawl graffiti on a police vehicle.
He said: "I believed [Tomlinson] was doing it on purpose. From what I saw he wasn't going to move and was looking at the police as though he wanted them to move him away.
"It was as if everyone was out for me because of what I had done trying to arrest the graffiti man."
Patrick Gobbs QC, for Harwood, admitted that the baton strike was a "bad decision", but stressed that Harwood was in a state of fear and felt vulnerable as he had no shield.
"I defy anyone to have been through that and not have his pulse racing and his heart pumping, to be sweating, to be frightened," he said.
The court heard evidence from Insp Timothy Williams who described Harwood's reaction to the footage.
"[Harwood] had his head in his hands, he was facing towards the ground and sort of looking up to me. He was obviously shocked."
Williams revealed that officers were told to deal with violent protesters with an iron fist while using kid gloves with those abiding by the law.
Harwood has claimed that he had not been thoroughly briefed on what to expect from the protest. In a statement to the Independent Police Complaints Commission he said: "The use of force was necessary, proportionate in all the prevailing circumstances. It's extremely difficult now to recall this brief, almost momentary event clearly."
The trial continues