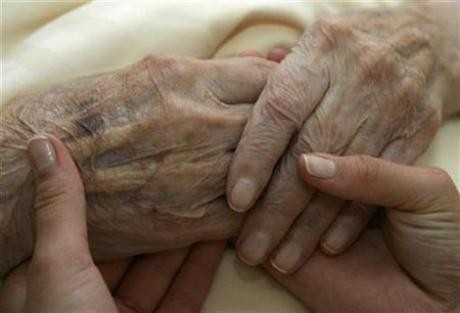 A new £2million Government campaign is to be launched to highlight early dementia warnings, with an estimated six out of 10 cases such as Alzheimer's going undiagnosed.
New adverts are to be aired on television, radio and magazines which tells the story of an elderly man who is showing signs of the early stages of dementia, and his daughter who is concerned she is losing her father.
Six out of 10 people who develop early dementia conditions such as Alzheimer's go undetected, meaning 400,000 people are not getting the vital help they need.
Only a third of adults over the age of 40 are thought to understand the differences between normal signs of aging and early stages of dementia.
Dementia costs health and social care services £8.2 billion a year, according to The National Audit Office. Alzheimer's Research UK have estimated that the overall cost of dementia to society as a whole is £23 billion per annum.
"People are afraid of dementia and rather than face the possibility someone we love has the condition, we can wrongly put memory problems down to 'senior moments," said Paul Burstow, care services minister.
"But if we are worried, the sooner we discuss it and help the person seek support the better. Don't wait until a crisis. Being diagnosed with dementia won't make the condition worse but leaving it untreated will.
"We can't cure dementia, but we can help keep the person we love for longer."
Experts have said the festive period is the time when many people notice family members have memory problems as they visit them over Christmas.
In January of this year, the number of people calling the Alzheimer's Society's helpline rose by 43 per cent.
"It's when you see someone you perhaps haven't seen for a while that you can see the difference," said Chief executive Jeremy Hughes.
"If their memory is going, if they're getting confused, if they have sudden mood changes, that's the time to say 'maybe you should see your doctor'."
"Dementia encompasses a number of different conditions with variability in cause and effect. It is often difficult to diagnose, especially in the early stages," saidDr Clare Gerada, Chair of the Royal College of GPs.
"The campaign sets out to create a better understanding of the symptoms and the results of the pilots show the positive difference that can be made to the quality of people's lives by seeking help at an early stage."
It is estimated that 634,000 are affected with dementia, but only 250,000 patients are registered by GPs as having been diagnosed with it, according to the Department of Health.