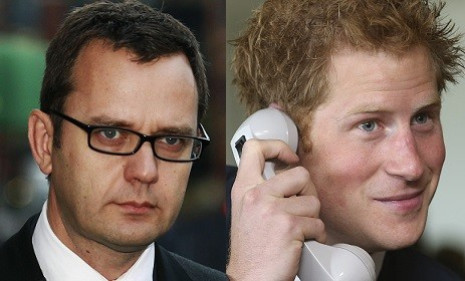 A voicemail from Prince Harry in which he asked a royal aide for help with an essay was hacked by the News of the World while Andy Coulson was editor, a court has heard.
During the phone hacking trial of former News International executive Rebekah Brooks and ex-government spin doctor Andy Coulson among others, the jury was read a transcript of the message in which the prince asked his private secretary Jamie Lowther-Pinkerton for help for an essay while he was at Sandhurst military academy.
The transcript of the 2005 message was kept by former NotW royal editor Clive Goodwin, one of the eight defendants accused of phone hacking and misconduct in a public office.
During the message, the prince asked Lowther-Pinkerton to "please, please, please" send him information about the 1980 Iranian embassy siege in London.
The jury at the Old Bailey were told that the hacked phone message was the source for a story that appeared in the now-defunct Sunday newspaper under the headline: "Harry's aide helps out on Sandhurst exams".
The message was intercepted by private investigator Glenn Mulcaire, who - alongside Goodwin - previously pleaded guilty and conspiracy to hacking phones in 2006. Mulcaire has since pleaded guilty to further charges relating to the hacking of the murdered schoolgirl Milly Dowler.
Goodman is facing separate charges of conspiracy to commit misconduct in a public office. He denies the charges.
The court heard how Goodwin and then NotW editor Coulson discussed how they decided not to mention the it was the Iranian siege that Harry had been asking about as it would be "too precise to get through unnoticed".
Prosecutor Andrew Edis QC, said: "It means that if they say that what he was asking about was information about the Iranian embassy siege, everyone would know that they hacked his voicemail."
'We could end up on criminal charges'
The court also heard how Coulson had authorised payments to a royal police officer who he was told by Goodwin was able told to steal a phone directory containing private telephone numbers of members of the royal household.
In an email exchange between the pair in May 2005, Goodwin said how the officer would be able to get "every job, every name, every number" of the Palace from the directory.
"We usually pay £1,000 a go for these. It's a very risky document for him to nick. OK to put the credit through?" asked Goodwin.
After initially not getting a response, Coulson eventually replied with "fine" after Goodwin repeated his request.
Goodman is alleged to have paid a total of £1,750 for two palace directories.
Coulson was warned two years earlier how he could face criminal prosecution if found paying officers to obtain the Palace directory.
In 2003, Goodwin emailed Coulson to highlight the importance of paying officers by cash so that they did not leave a paper trail.
In an email shown to the jury, Goodwin wrote to Coulson: "These people will not be paid in anything other than cash because if they're discovered selling stuff to us they end up on criminal charges, as could we."
Coulson and the other seven defendants deny all charges against them. The trial is expected to last until Easter.