PokeMatch: This Tinder-style app is helping Pokemon Go players catch a date
Pokemon-themed mobile dating app uses swipe left / swipe right matchmaking and Facebook login API.
An unofficial Pokémon Go dating app is hoping to bring Staryu-crossed lovers together in a gotta-swipe-em-all matchmaking system similar to Tinder. PokeMatch has reportedly created more than 10,000 matches already, with trainers around the world hoping to combine their Pocket Monster hunts with a quest for love.
The free dating app for iOS and Android starts by asking romantic hopefuls their age and whether they are interested in men, women, both or just a friendly Poké-companion.
You can add a brief trainer bio and even decide to filter possible matches by Pokémon Go's player factions - Team Mystic, Valor and Instinct. As PokeMatch uses the Facebook login API, your default profile image is also pulled from your Facebook account.
With your Pokémon themed profile all set up, the dating adventure begins as you use your finely-honed PokéBall curvebull techniques to swipe left and right to reject or accept matches with other Pokémon Go players.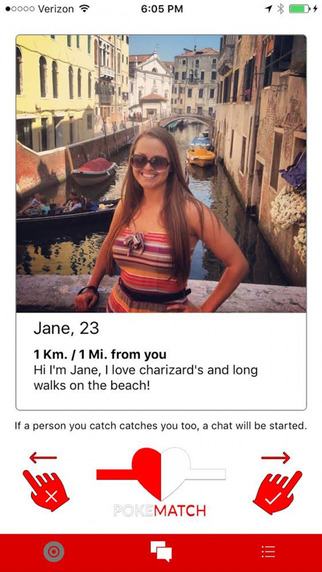 Successfully matched trainers can then access an in-app chat and designate one of Pokémon Go's many PokéStops for a moonlit meet-up to talk player tactics, tricks, CP levels and romantically gaze into each others' eyes, all the while having the odd glance at their mobile devices every now and again - I mean, what if a Pikachu pops up?
The co-creator of PokeMatch, Pim de Witte, told Pocket-Lint that interest in the dating app had grown far beyond the developer's expectations: "Something I've never seen before is happening to us, and it is feeling kind of surreal."
"People are using our app all over the world. With the launch of our new iOS app, we hope to connect every single Pokémon Go player. It's not just a hook-up app, PokeMatch and Pokémon Go create actual connections between people, completely for free."
As the third-party app has no affiliation to Niantic and The Pokémon Company's freakishly popular augmented reality mobile game, anyone could technically try out PokeMatch and masquerade as a Pokémon Master looking for love. Although this could be one of the few situations where knowing the difference between a Clefairy and a Clefable might be classed as having "game".
You can catch PokeMatch for free on Apple's App Store and the Google Play Store.
© Copyright IBTimes 2023. All rights reserved.